You may remember me banging on a while back about the Isabel Marant Perkins Trainers- my ultimate shoe for pram pushing, if not then
HERE's
a reminder. Well, I finally managed to get my hands on a pair of wedge trainers/ sneakers/ whatever you want to call them!
Nope not the Isabel Marant ones, instead I bought these from Ash on the Kings Road.
Introducing my Ash Cool Wedge Hi-Top trainers.....
Ash stock many different types of wedge trainers but I totally fell for chunky sole of this style, there is another version called Bowie which is very similar but has a slightly different sole.
I actually think I prefer these to the Isabel Marrant version, these being a little less clunky. I also much the prefer the price tag, these were less than half the cost!!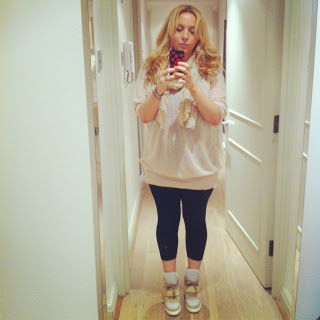 They are by far the comfiest heels I have ever owned and perfect for strolling around with the little one, I love them! So much so that I may even invest in a black pair for winter ( ahem, thinking a bit ahead here!) These are described as yellow and are part of the limited edition pastel collection, but to me they are more of a sandy colour.
Say Hi to Phoebe everyone!!
Phoebe is my sisters gorgeous little Boston Terrier pup who we are looking after for a few days, we have two more lurking around the house somewhere. All three are brilliant with the babies!
Back to the trainers..
Here's a link to the Ash website although their wedge trainers seem to sell out fast!