Last weekend we celebrated Easter once again with my family in Greece as Orthodox Easter fell on a different weekend to ours this year.
Easter in Greece isn't merely about eating a ton of chocolate, it is a huge religious event and is celebrated kind of on the same scale that we celebrate Christmas here in the UK. Apologies if I have made any mistakes in describing the traditions but here's how we do things chez Jones........
On Easter Saturday at around midnight, everyone gathers at the church for the resurrection, holding candles which will then be lit from the holy flame. Many people will buy elaborately decorated candles, or even decorate them themselves. Here are some that we bought, mine is the one with the evil eye in the middle.
Once children are baptised, then their godparents will buy them their candle or Lambatha as they are known in Greece. Often, godparents will also buy the child a pair of new shoes ( love this custom!) This year, we bought E's candle as she has yet to be christened.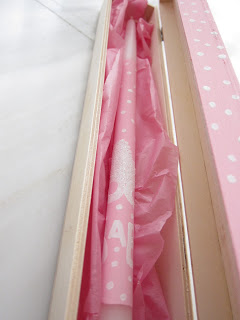 Of course, she was far to young to go to the church at midnight. Apart from the fact that it's too late for an 8 month old, there are usually fireworks and firecrackers which would scare the hell out of her. So, we asked her soon to be godmother ( who incidentally has great taste in shoes, lol ) to hold her candle instead!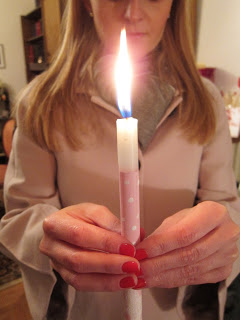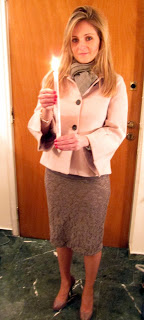 On Easter Sunday, our family usually gathers at a Taverna for a big feast of traditional greek food.
This year we swapped the Taverna for my Aunties lovely summer house. I exactly didn't relish the thought of Estella being stuck in a smoky taverna all afternoon- the smoking ban hasn't exactly been embraced in Greece, a country where rules are made to be broken!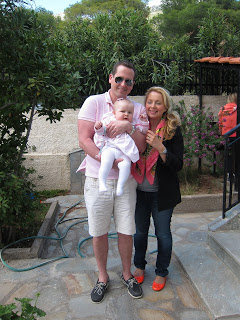 The Chef!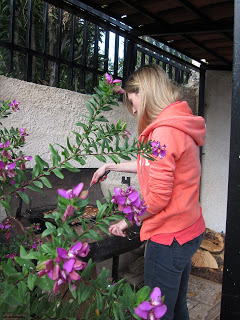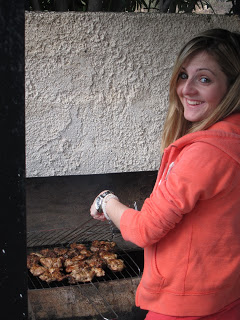 Unfortunately it was a bit to cold to eat outside, so we brought outside in!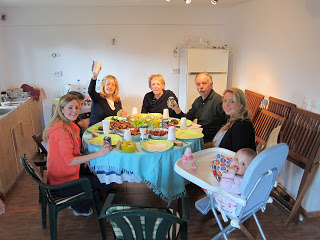 We also had traditional red eggs,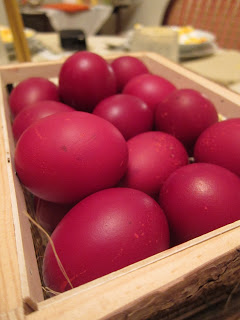 Easter Monday, we got together with some friends back in Athens and headed over to Balux House Project which is a very cool cafe and bar on the beach. It's great for people watching ( erm what austerity measures?) and there's also a kids area which I'm sure we'll make use of in years to come.

The sun was shining but only the brave went anywhere near the water!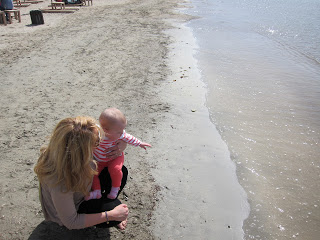 Uhm, I don't think so..........