Whenever we go back to my parents house, it's like a walk down memory lane. My darling mama has managed to keep so many of my favourite childhood possessions including much loved toys. I keep the toys at my parents house so that the children have toys to play with whenever they visit. I have a few Care Bears which I have to say are HEAPS cuter than the Care Bears of today, they have little hears on their feet and bums and beautiful embroidered logos on their tummies. My all time favourite toy has to be the My Little Pony Dream Castle. E is in to My Little Pony in a big way at the moment and she was thrilled when we dug this out and has had hours of fun playing with it. I still have some of the ponies including Majesty, Baby Ponies and even a Sea Pony, who remembers these?
My mum has also kept loads of my favourite outfits! She is a complete neat freak so most of the clothes are in amazing condition and because she only every bought us the very best clothes, the quality is always amazing. E often wears my old outfits and gets tons of complements. When she was tiny, I loved her in the red wool dress below which I also used to wear. My mum hadn't kept the shirt I wore underneath so instead I paired it with a Peter Pan Collar bodysuit from
H&M
and those adorable tights from Gap with a teddy bear on the bum. Below bottom and left is E in my old dress and top right is me with my ma & pa in the same dress!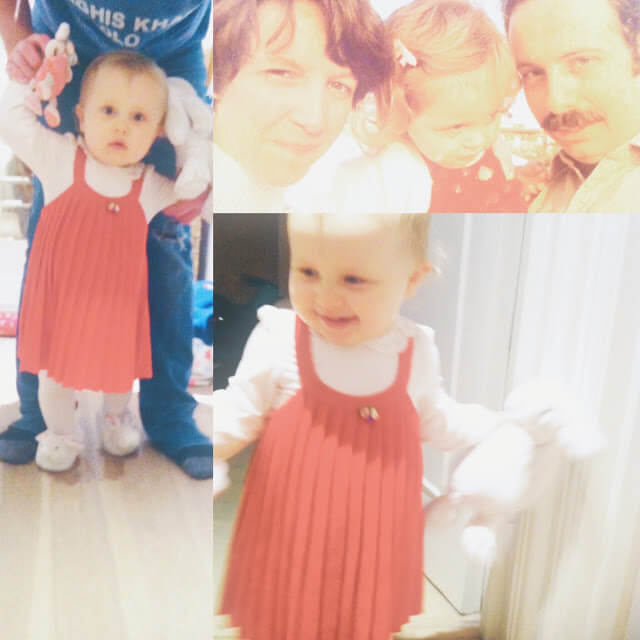 My mum was always strict with us and sweets but occasionally we were treated to
a quarter of
rhubarb and custard or some
jelly tots
from the local newsagents.
My favourite films were
Home Alone
and The Wizard of OZ. E really wants to watch the Wizard of Oz but I think we might put that off for a year or two because the wicked witch is a little bit freaky but I think this Christmas would be perfect to introduce her to the adventure of Kevin McCallister in Home Alone.
What were the things you loved most as a child and have you kept any of your favourites toys or clothes for your own children?