Through out almost the entire 9 months before little E was born, I attended a fantastic yoga class over in Islington, discovered by my sister who was also pregnant at the time! I worked right up until a few weeks before the birth and so I really enjoyed this 1 hour a week class where I could totally switch off, relax and yet still exercise gently.
One of the reasons my sister chose this particular company was because they also offered mother and baby yoga, so about 10 weeks after E's arrival I was super excited to begin classes with our lovely yoga teacher, Veronique, once again! Estella really loves her weekly yoga class with her cousin, my sister and I both look forward to doing some yoga whilst keeping the little ones entertained. Sadly, once they are able to crawl ( and my little niece is pretty much ready, E flails on her tummy like a wind up bath frog- very cute) the classes are no longer very practical :(
So, I did a little research over at the local bookstore to see if I could find any baby yoga books so that we could carry on at home. I found this excellent book by Francoise Barbira Freedman called Yoga for Mother and Baby, which uses very similar principles to what we have learned in class. I don't know how easy it would be to follow the yoga in the book if you have never been to a class before but for me, it is a great reminder of what we have been practising over the past few months as many of the rhymes and postures are the same. I mentioned this book to our yoga teacher and she tells me that the author was one of the first people to introduce mother and baby yoga to the UK.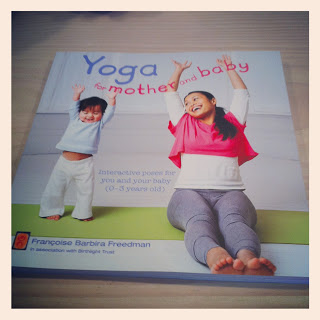 The book is full of images and step-by step guides to take you through the yoga poses and stretches so I really hope that both E and I will be able to keep up the yoga to some degree, it has helped no end with post pregnancy aches and pains!
I bought my book from Amazon, here's the link if you'd like to take a look
LINK!