I have been losely following the Dukan Diet for the past four months now and I have lost around 2 stone of baby weight!! I say losely because phychologically, if I feel I'm restricting myself certain foods then I always seem to crave them even more so I'm just adapting it to suit me.
I still have a way to go until I reach my target weight but I thought that this milestone deserved a little treat, I love anything peach or coral toned as you can probably tell from my blog background, so I've been browsing for jeans in these shades. There are heaps around at the moment thanks to this seasons trend for brighly coloured jeans: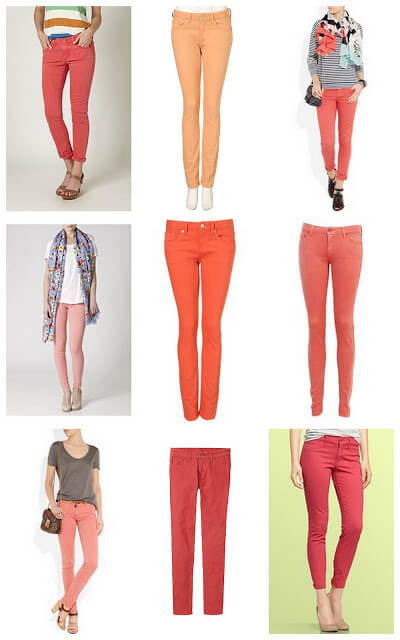 During a shopping trip with my mother earlier in the week, I tried on the pair above by the aptly named brand, Mother Denim. I was ridiculously pleased with myself because the shop assistant insisted that I try on a uk size 12, and guess what? They fit! (I think the sizing must be generous) Nevertheless, my mother managed to burst my bubble by declaring that they would look better in black! I get it Mama but that kinda defeats the object!!
So back to the drawing board I go! If all else fails I'll just have to make do with some peachy nails, check out my
Pinterest board
for some inspiration.
Hope you're all having a lovely long weekend x