If cosmetics were medicines then nail polish would surely be my happy pill! I was feeling a little down in the dumps yesterday and treated myself to some new nail paint, I love how something so simple ( and cheap) can change your look. I was already wearing Red Carpet Manicure gel in Violetta Darling and although I love the longevity of gel, yes, it does can a little boring after a while. Que some impromptu nail art and an excuse to try out my new purchases.
Little finger and index finger
: in Violetta Darling Top Coat-
Barry M Aquarium
in Treasure Chest.
Index Finger:
I painted on the white chevrons using
Barry M Nail Art Pen
in white, the lines are a bit wobbly and I found it totally impossible to do my left hand. I have since found some really cool tutorials on Pintrest doing chevrons using sticky tape, I'm so going to try this method next time.
Middle finger and thumb:
I used the Barry M nail art pen once again to paint on the dots of the flower and popped a gold nail stud from
Andrea Fullerton
in the centre whilst the paint was still wet. I then layered on two coats of Seche Vite top coat just to secure the studs and add some gloss.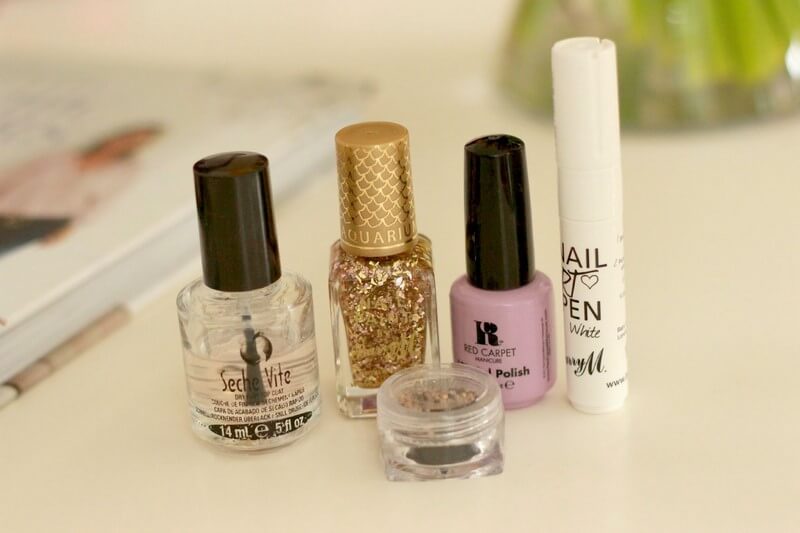 Of course the beauty of gel is that I can remove all the nail art and still be left with a glossy coat of nail polish should I get bored. I still have a few more polishes to try out and will be posting some more soon.