For the past couple of weeks I have been scouring
Pinterest
for images of peachy nails. I eventually took the plunge and ordered some more Orly Gel FX, this time in First Kiss. It's a very elegant neutral peach tone but perhaps a little bit too subtle for me.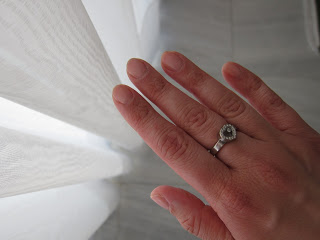 Instead I ended up using the gel as a base coat for Barry M's Peach Melba with a layer of my trusty Seche Vite top coat- a MUST for mamas on the go, it dries polish quick as a flash and leaves them super shiny!!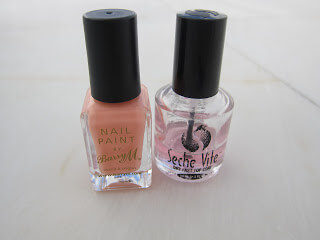 But that wasn't enough.....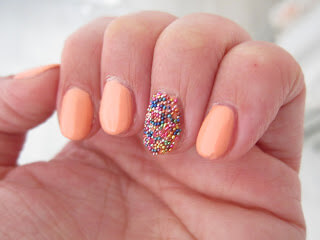 I also attempted a caviar manicure! Ciate's Caviar Manicure has taken the beauty blogs by storm, but of course it sold out in record time. Whilst searching for other options, I came across this brilliant tutorial on
Coleyyyful's Blog
.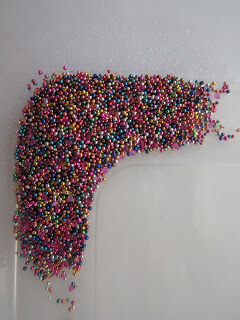 The teeny glass beads which you can see above were ordered from eBay.
I am constantly rubbing dentinox into E's teething gums at the moment so I didn't think it was a good idea to cover all my nails with the beads and opted for an accent nail instead.
The finished effect looks kind of like those penny sweets I used to have as a child.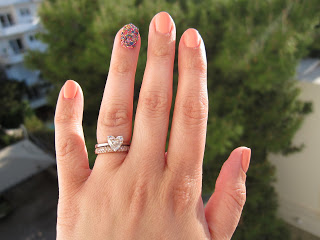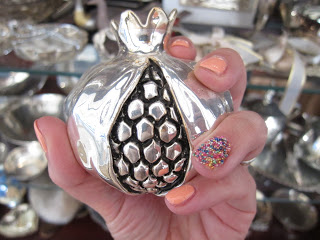 Update: Whilst I loved the caviar effect, I'm glad I didn't fork out for the Ciate version. 24hrs later it looked a mess, most of the beads had discoloured or had fallen off.
Mama Verdict: for one night only!
P.S. The Orly Gel has doubled up as a FAB base coat allowing me to wear regular polish far longer than I normally would :)