Lizzie
& I are so excited to share with you our first every instalment of
#CityCountryLife
and this week our topic is of course, Bonfire night. Please do share your blog posts with us via the linky below! Here's how we spent Bonfire night:
Officially we didn't celebrate bonfire night on the night as the 5th fell on a school night. Instead we opted to go to the fireworks display at nearby Battersea Park which was held on Saturday. Last year we had been invited to the
Battersea Park fireworks via my blog
and we had such a great time that we decided to make it a family tradition. This time last year though, we were seriously toying with the idea of moving out of London. How things have changed!!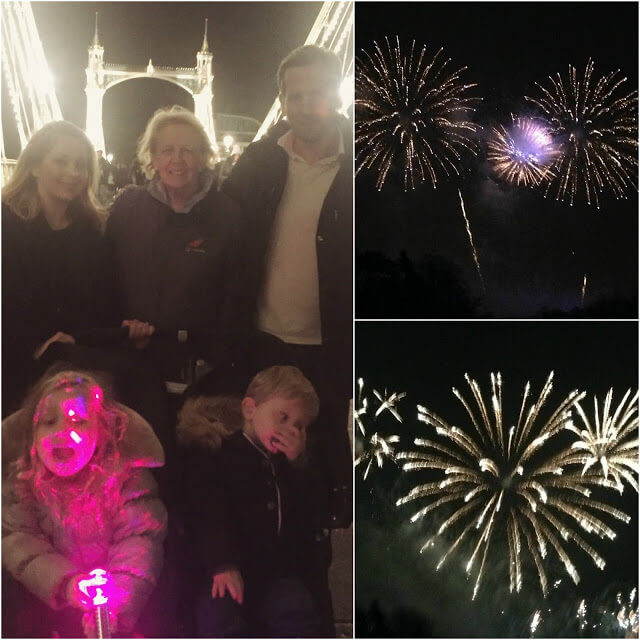 We walked through the normally sleepy streets of Chelsea to Battersea park. That evening the streets seemed alive, bubbling and brimming with excitement as everyone left their houses to cross the bridge over to Battersea Park. We walked past E's new school, the church where she was christened and then the town hall where we had our civil wedding. We talked about all the memories that we have created here in Chelsea and the life that we are building for our children.
We stopped at the bridge to meet up with friends, having arranged to go to the display with E's new best friend from school and her parents. For a long time, I felt a little isolated in London as my old friends moved out to the suburbs with their growing families. Since E has started school though not only has her our social circle has expanded with play dates and parties but Mr Jones and I have begun to make friends with fellow parents. As we reached the gates to Battersea Park, we followed the crowds through the entrance , stopping to buy light up swords for the kids and some mulled wine for the grown-ups. When the fireworks started, Rufio and the girls stood up in their seats and danced along to the music, oohing an aaahing at the magnificent fireworks, they really were something else!!
That evening, I realised that whilst bringing up children in a city isn't everyone's ideal, it is our ideal and I really feel that we are making the most of all the wonderful things that city life has to offer. Now that E has started school, she is making her own friends, laying down roots and most of all she is happy. For us healthy and happy children equals happy parents. I feel so grateful to live in such a wonderful part of our capital city and it just takes a few fireworks now and again to make me really appreciate that!
What did you get up to this Bonfire night? Share your links below: