I have been tagged by one of my favourite bloggers, the lovely lovely
Honey's Mummy
for this meme started by
BusyBeeMummyBex
Here are the rules:
When answering the questions, give as much detail as possible. It's all about the finer details, people!
Leave a comment on
HERE
(BusyBeeMummyBex BlogSpot.)
Tag three or more people and link to them on your blog.
Tweet #yummymummy when sharing on twitter
What is the first thing you do when you wake up?
Stumble towards the kitchen and warm up a bottle of formula for little E.
Do you Shower Daily? Are you a Early Morning Shower or evening Bath type?
I'm definitely an early morning shower type, mainly because I am not a morning person and this helps to wake me up. Also I don't particularly like Baths, I hate the thought of lying in dirty water!
Do you wear Make Up Daily?
Absolutely, I would scare small children and animals if I didn't!
Whats in your make up bag?
A lot, too much to store in a bag! Instead I use clear perspex drawers that allow me to see where everything is when I'm in a hurry.
On a daily basis I love, Becca Luminous Skin Colour and Stick Foundation, Mac Blot Powder, Benefit Erase Paste, Make Up For Ever Aqua Liner, YSL Effet Faux Cils Mascara, Mac blusher in Foolish Me which annoyingly has been discontinued here so I bulk buy this whenever I travel Singapore where it's still available.
When your having a slummy Mummy day what do you normally wear?
Probably leggings ( love American Apparel for these) and an over sized T-shirt.
Nails - how often do you get them done?
I treat myself to a salon manicure about once a month. The rest of the time I usually do my own
gel manicures
or I use
Incoco Nail Appliques
, both last much longer than a regular manicure so I don't have to worry about chips.
Your top tip for Tired Eyes?
I'm still working on this one, baggage has always been a problem for me ( and not the nice kind you buy in Louis Vuitton either!) Here I am on my wedding day with cold spoons over my eyes in an attempt to reduce puffiness. Yes I am wearing something behind that laptop :)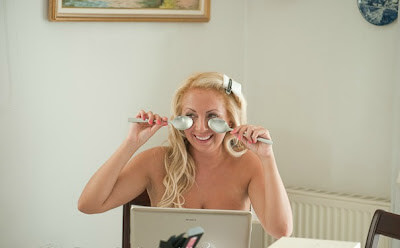 At night time I use a good eye cream such as Creme de la Mer of La Roche Posay Hydraphase. In the daytime, I use Benefit Erase Paste which is a wonder product for concealing dark circles.
Recently I have been introduced to a slightly unorthodox remedy for under eye bags, so unorthodox in fact that I am going to have to whisper it to you...haemorrhoid cream applied under the eyes......there I said it! This isn't something I would use on a daily basis but it does actually work, by shrinking the veins and therefore de-puffing eye bags!
Are you a Starbucks or Costa Coffee kind of girl?
Starbucks all the way! In the winter I drink Skinny Vanilla Latte's with sugar free syrup and in the Summer I'm a Mocha light Frappuccino girl.
How many Children do you have/want & why?
Three! When I first met Mr Jones I warned him that I wasn't really interested in having children. Basically I was so terrified of child birth that I had convinced myself that I didn't want babies. Fortunately, Mr J managed to change my mind, although I made an educated decision and opted for a c-section for the birth. I realise that some people view cesarean as a dirty word but you know what? I don't give a stuff! My daughter's birth was one of the happiest days of my life, I enjoyed it so much that I would like to go through it again, twice!
Where is your favourite place to shop for Babies/Children's clothes?
For special occasions I love Ralph Lauren, Marie Chantal and
Chloe
( check out TK Maxx for bargains, shhhhhh!)
For every day little E wears Petit Bateau and H&M. I'm a huge fan of H&M baby clothes, they are fantastic quality (far superior to the adult clothes), thoughtfully designed and always a bargain.
Flats or Heels Everyday shoes are?
Both! I am a self confessed shoe addict. Louboutin is my drug of choice for heels and Lanvin make the most amazing flats with a tiny concealed heel.
My favourite EVER are my wedding shoes, I would wear them every day if I could get away with running errands in 5inch crystal encrusted heels!!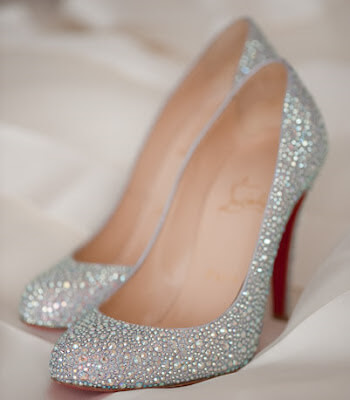 Now I am going to tag three very yummy mummy bloggers
Karen
365 Pearls of Wisdom
Avril
School Gate Style
Gemma
Yes! We do have a TV!!