My mother is staying with us this weekend and has been plastering every inch of our house with British Flags in honour of the Queen's diamond Jubilee. I even caught her pinning a few on to little E's stroller!!!! I decided to go for a slightly more subtle approach with Union Jack themed nails.
This was super easy to do: I painted my nails with OPI's Alpine Snow, a matt white polish. I then applied the Union Jack heart decals which i bought from eBay,
Here
.
I have never used water decals before but I was surprised as to how easy they were to apply. I simply cut roughly around my selected heart, soaked it in water for 30 seconds to remove the backing and then pressed it on to my nail. Once I had done this for each nail, I finished the manicure off with a top coat to secure the decals in place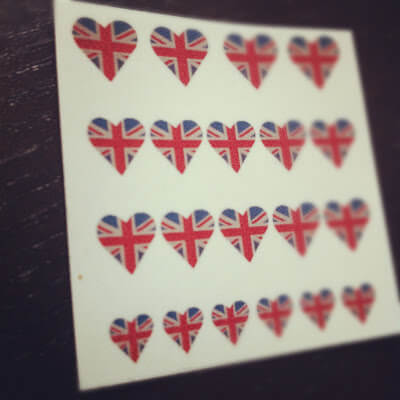 Whilst on the subject of Union Jacks, how cute is this Romper Suit that I picked up in JojoMamanBebe ? Whilst strictly speaking this outfit has probably been designed with the Olympics in mind, I think a certain little someone may be sporting it later this weekend......