Regular manicures only ever last a few days on me, so gel manicures such as Shellac and Gelish have been an absolute godsend. Whilst I realise that strictly speaking, gel manicures are supposed to be professional treatments, it's pretty much impossible to get to a salon when you have a baby!
Last Sunday's salon manicure
was a rarity, thanks to the Rugby!!! Besides, I have pretty much kept the local nail salons in business over the years, so I don't feel to guilty about giving it a go myself.
I already had a UV Lamp from a previous failed attempt at acrylics but you can find decent 36W lamps on ebay for about £15 such as this one
here
.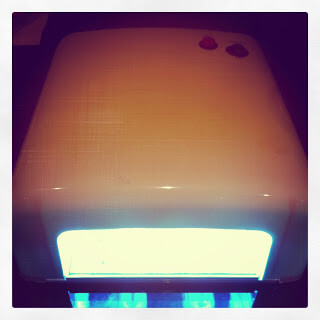 Once again, I headed over to ebay for some Gelish top and base coat, and decided on Orly GelFX in Red Flare for my colour.
Here's my method:
Prep your nails with a dry manicure, the polish will adhere better to the nail if it isn't soft from water. Making sure that your cuticles are well pushed back.

Wipe your nails with some polish remover or alcohol to remove any dirt.
Apply a layer of base coat and cure for around 1 minute ( some brands vary but check on the back of the bottle and it should tell you).
Make sure not to get any polish on your skin or cuticles, it will cause the gel to lift.
Apply two coats of gel colour, curing in between.
Finally apply and cure the top coat, making sure to cap the edges to help the polish last longer.
The polish may still feel a bit sticky, don't worry it should be dry, this is just an inhibition layer which you can remove with some acetone free polish remover.
Final Result
I really think that the nail companies are missing out by reserving this for the professional use only. It isn't a complicated treatment, you just need to be able to paint your own nails. One company has already cottoned on to this gap in the market,
Red Carpet Manicure
sell the entire kit, and have a vast array of colours.
OPI have also just released their own professional gel polish called Gelcolor, I am eagerly awaiting my order of Malaga Wine ( from ebay again) which I can't wait to try out. I promise to post pictures!