At only nine months my daughter is not a keen crawler! Instead she likes to cruise around the house hanging off whatever she can find which includes dog gates ( yes I did say dog gates not baby gates!) walls, tables, anything goes....... Sounds great? Far less knee worn clothes you say! Well yes true, but this also means one of two slips and a few tears whilst someone gains confidence on their feet. That is, until Auntie A came along with her Mocci's!!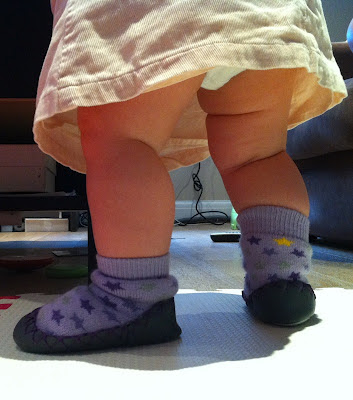 Now we have lots of love for Auntie A, she is the keen photographer behind my blog logo and always comes up with
Fantastic Pressies
for her little niece! These Swedish Moccasins are no exception! Auntie A's hubby is Swedish and for a while now she has been returning home from Sweden with armfuls of niftily designed baby gear for her little one, yes people they don't just sit around listening to Abba and eating meatballs!
Apparently most children in Sweden will have a pair of Mocci's to wear around the house. Shoes are always left at the front door to help keep the floor clean. Whilst these would be ideal over socks and tights in winter to keep little tootsies warm, they have a towelling lining which is currently keeping little E's feet cool whilst our British Summer reaches the scorching temperature of er 12 degrees!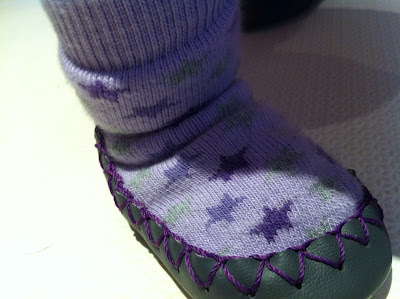 I love how their suede sole grips the wooden floor and helps prevent little E from slipping over. Of course we also adore the purple star design which may have been the deciding factor behind Auntie A's purchase ( little E's name means purple star).
Oh and you can wash them too which is of course very very important if you have a baby with a penchant for spitting food everywhere for fun, as I currently do!!!
The link to these Mocci's from the website is
Here
! But they have heaps more designs if purple stars aren't your thing!