Recently we'd been thinking more and more about moving Rufio from a cot to a 'big boy bed'. He's going to be 2 in a few weeks and he really loves his big sister's bed so we thought that perhaps he was almost ready to move up to a Big Boy Bed himself, especially as he hadn't been all that keen on his cot lately. So when
HelloHome
kindly offered to send us a toddler bed to review, it seemed like the perfect timing to make the jump from cot to Big Boy Bed. We totally messed this process up with E so I really really wanted to get it right this time around!!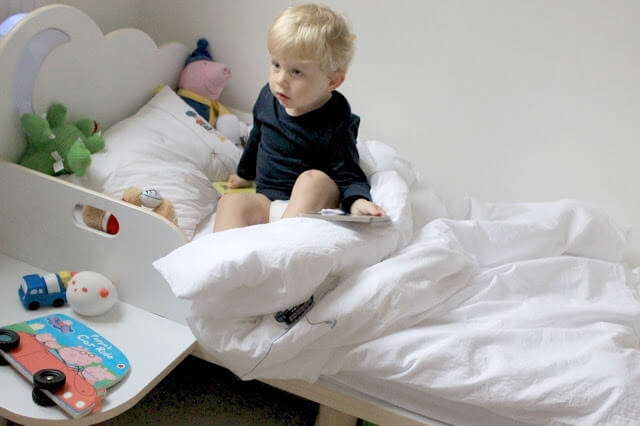 Rufio was born when E was just 22 months old and we moved her to a big best just a few weeks before he was born. At the time I didn't really feel that she was ready to make the transition but it seemed silly to buy another cot, so Big Girl Bed it was.
E is tall for her age so we agreed that a toddler bed wouldn't last long. This decision is something I really regret. Instead we put her straight in to a single bed, using a specially designed bottom sheet with built in cushions to stop her falling out and she absolutely hated it! I think it was just a step too far too soon for her and until recently she spent mosts nights sleeping in our bed.

We chose the
StarBright Toddler Bed
for Rufie and it is just absolutely gorgeous. The children's room is mainly white with a star theme so the moon & cloud design fits in perfectly with
the decor.
Both the colour and the design is completely neutral so would work well for a boy or a girl. Our favourite thing about the bed is the moon nightlight which glows and projects tiny stars on to the well when the lights are out.
The bed feels really sturdy and has side panels to stop him from rolling out in the night. It's also really low down so even if they do fall out they won't get hurt. Rufie has rolled out once but he didn't even wake up!! There's also a little seat on the side of the bed for parents to sit on to read bedtime stories. This is a really sweet addition to the bed but it does take up quite a lot of room so I do wish that there was an option for us to add this on later rather when we have moved house and Rufio finally has his own room. Mr Jones ( DIY Dave as I affectionately call him) isn't the most efficient when it comes to assembling flat pack furniture but he did manage to put this together with out too much drama.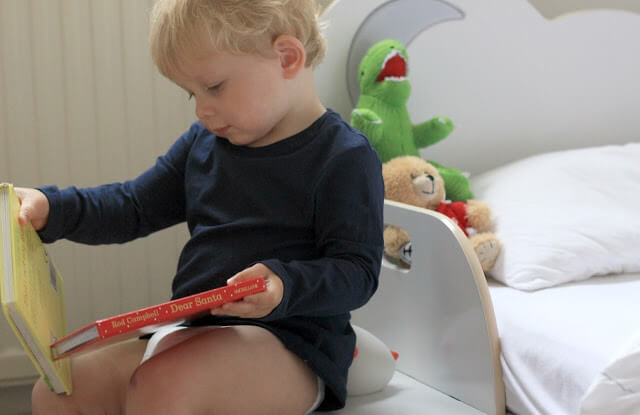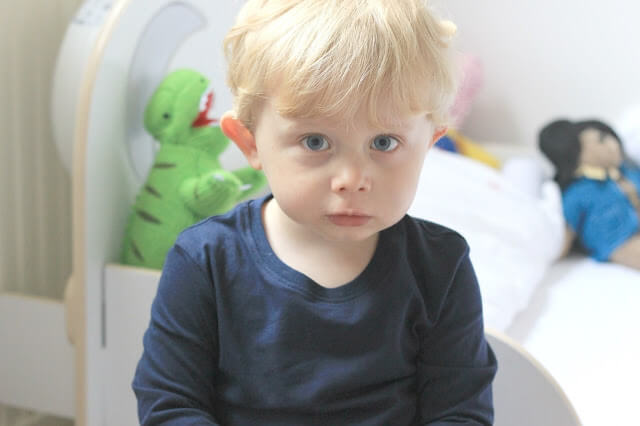 Rufio is thrilled with his big boy bed and likes to show it off to anyone who comes to our house. We let him chose his own bedding and he picked out Pirate and also the London themed bed linen from The Little White Company. We also bought him a book called Pirate Pete's big boy bed, a story about a little boy called Pirate Pete who also moves from a cot to a big boy bed. He really loves this book and asks for it most nights and I really think this helped him understand what's going on?
I'm so happy to say that the Starbright Toddler bed has been a complete success. He likes the freedom and independence of being able to get in and out of bed as he pleases, just like his big sis! I only wish that we had bought a toddler bed for E, she can still lie comfortably in it now so not only would we now have more space in their room until we move but I'm sure we would have had a happier sleeper too.
What age did you move your child from a cot to a 'Big Bed'?