I know, I know I'm totally jumping on the bandwagon with today's blog post but coconut oil is just sooooooo amazing, how did I ever manage without it? Ladies, if you don't have at least one jar of this stashed at home, then you really need to try it out!! I currently have one pot in the kitchen which I use for cooking, baking, frying, as a spread and making smoothies etc etc I also have another pot in my bathroom which so far I have used for: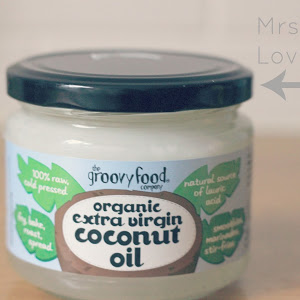 Moisturiser:
Coconut oil is a wonderful moisturiser both for the face and the body. I have quite oily skin so I have to use this really sparingly, I definitely can't use it every day as it breaks me out so instead I apply it maybe once a week as an intense moisturiser.
Eye Make-Up remover:
This is 100% the most effective eye make-up remover I have tried. It literally melts away waterproof mascara and tough to remover mascara's such as They're Real- by Benefit. You only need to use the tiniest amount though, otherwise your eyes will feel gunky afterwards.
Cleanser
: Coconut Oil is great for gently removing make-up especially for sensitive skin such as mine. I apply a pea size which I work all over my face as it melts and then remove the excess with a warm water and a muslin cloth. Using coconut oil as a cleanser can also work well to hydrate your skin if you find it too heavy to use as a moisturiser.
Hand & Foot treatment:
massage this in to dry cuticles or dry and cracked patches on your hands feet and leave preferably over night. A great tip for DIY a pedicure is to apply coconut oil to your feet, paying extra attention to the heels and then wrap your feet in clingfilm and leave it to soak in for as long as possible. I can't stand to leave the clingfilm on my feet over night but if you can, then I have heard that the results are amazing!!
Hair Masque:
Once a week I will work a dollop of coconut oil through the ends of my hair as a masque. I leave it on for as long as possible before washing it out with a natural shampoo & conditioner.
Hair Styling:
melt a tiny tiny amount in the palm of your hand and then apply sparingly to the middle section and ends of your hair. The coconut oil will solidify as it cools, taming frizzy and fly away hair and defining the ends. A word of warning though, only use the tiniest amount and never apply to the roots, unless greaseball is the look that you're going for!!
These are the main uses that I have found for coconut oil as a beauty product so far. Some people think I'm bonkers but please try it before you knock it and I'm certain you'll be amazed at the results. Coconut Oil is pretty easy to find in the supermarkets these days and so it's cheap because a little will go a really long way.
The best part of all though is that coconut oil is completely natural and therefore worry free. I actually use it to help tame my daughter's crazy curls without having to worry about using harmful chemicals or damaging her beautiful hair.
Have you tried coconut oil yet??