This year marked my second year at Britmums live and I was super excited to be attending again! Last year's
Britmums Live
was really what gave me the confidence and motivation do make a lifestyle change and turn my hobby in to a career in blogging.
On both occasions however, Britmums has fallen on quite stressful weekends for me so I haven't really felt completely at ease or able to focus on the seminars. Last year my mum was having an operation on the first day of Britmums and I was at the hospital with her both before and after the conference. This year, we had a family party in Wales with my in laws, organised for the following day. This meant that I had to leave slightly earlier on day two in order to go home, pack, feed & bathe the kids and then pile everyone in the car and drive down to Wales for the party the following day.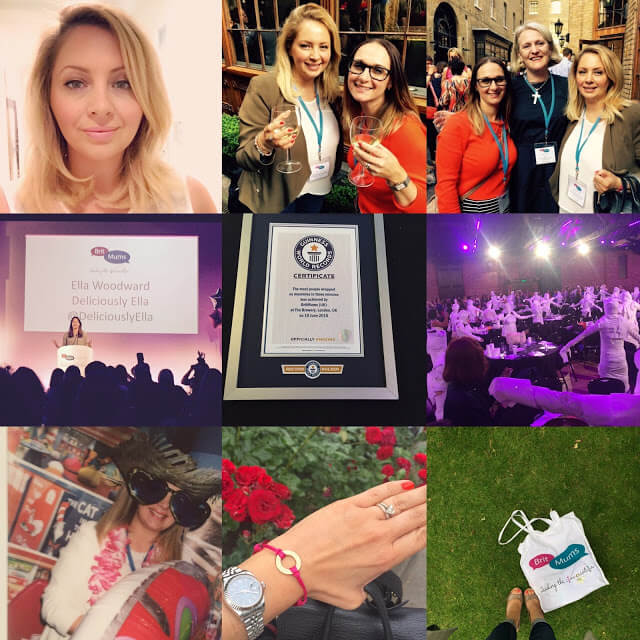 Above me getting ready for Britmums live, with friends old & new, Lizzie and Diana of Lizzie Somerset and PaintSewGlueChew , Deliciously Ella, Breaking World Records, turning ladies in to mummies, silly photos, gorgeous gifts from Merci Maman and goodie bags,
Fortunately with this being my second Britmums, it was much less nerve wracking than before, being familiar with the process and the surroundings obviously helped. Ella Woodward of Deliciously Ella was the keynote speaker and I couldn't wait to hear her speak, I'm such a fan girl at the moment!
I was also incredibly moved by disability and face equality campaigner Victoria Wright who has a rare genetic condition called Cherubism what an amazing lady, I am completely in awe of her bravery!
Then, suddenly we were up on our feet, covering people in loo roll in an attempt to beat the world record for the most mummies in a room!! So bizarre but a great ice breaker and we can now all call ourselves world record holders!!
Then it was time for the party and the BIB awards and It was just fantastic to be able to catch up with some of the brilliant bloggers who I met last year, we'd kept in touch throughout the course of the year and it's always lovely to chat face to face. I also made some wonderful new friends who I have planned to meet up with over the summer. So once again I have left Britmums feeling inspired, upbeat and excited for what this year has in store ..... with a gorgeous new bracelet ( above) from Merci Maman one of the event sponsors!!
As for the family reunion- well, it was a success. I come from a tight knit Mediterranean family where everyone knows what each other is doing at every minute of the day. In contrast, my husband's family is just huge, full of vibrant and animated characters ( which lead in part to the title of my blog 'Keeping up with the Joneses' ) so I always get a little bit stressed beforehand because I feel as though we're all on show. Thankfully the whole event went well with E&R having a fantastic time playing with their cousins in their Auntie's enormous country garden. Got to love the Welsh summer!!