Last month, I was very fortunate to be invited to the first ever Mumsnet Bumpfest event, which was sponsored by Aldi.
Before you ask, no I don't have any news for you ;) Indeed the event was geared towards expectant mamas but it was also quite relevant to relatively new mamas such as myself.
I attended a fantastic infant first aid speech given by the British Red Cross. I have been meaning to enrol myself and Mr Jones on a child first aid course for eons, and the lecture reinforced to me just how important it is to have some basic first aid knowledge, especially when you have young children as I do.
I also sat in on an incredibly interesting and thought provoking speech by Penelope Leach who is a psychologist specialising in parenting and child psychology. She has very strong views on controlled crying, and as a mother who has never been able to leave my children to 'cry it out' it was refreshing to hear for once, that my views on this matter are supported by her extensive research in to this area.
Right about the time this lecture had ended, I received a frantic call from Mr Jones informing me that both children were ill with a tummy bug and that I was needed back home urgently. I think I have mentioned before that since E started nursery, they have both been picking up all sorts of bugs and today was no exception, in fact we're still feeling the aftermath of it now, eek!!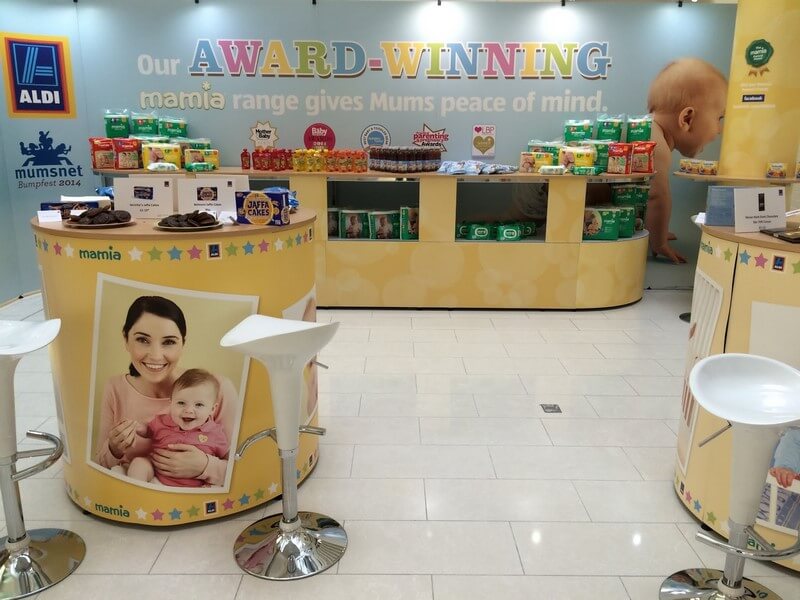 I was sad to miss out on a manicure from Wah Nails who had a stall there and not to be able to listen to more of the guest speakers. I really wanted to go to the Attachment Parenting section but Mama duties called..... not before stopping at the Aldi stall to say hello! Since our trip to London Zoo with Aldi this summer, I have become quite a convert to this supermarket. As a family, we especially love their rice cakes, the nappies are also incredibly good value too! I was therefore very pleased to find that the Mumsnet Goody bags were packed full of Aldi treats, including their extra sensitive wipes, which we hadn't tried before and LOVED.
Thank you once again Aldi!!