So here's the thing, right before we found out that Mr Rufio was on his way, I decided to purchase a very girly, very flowery Cath Kidston Maclaren Stroller for little E. Now don't get me wrong, It is a fantastic pushchair, that has travelled all around the world with us ( you can see E in it below left on the beach in Batu Batu Malaysia and Rufio is on the right again on a beach in Elafonisos, Greece) it is super light weight, practical yet stylish you name it BUT I do feel a little bit guilty pushing my boy around in such a feminine buggy. Even though it is predominately teal, I do get a few funny stares from passers by!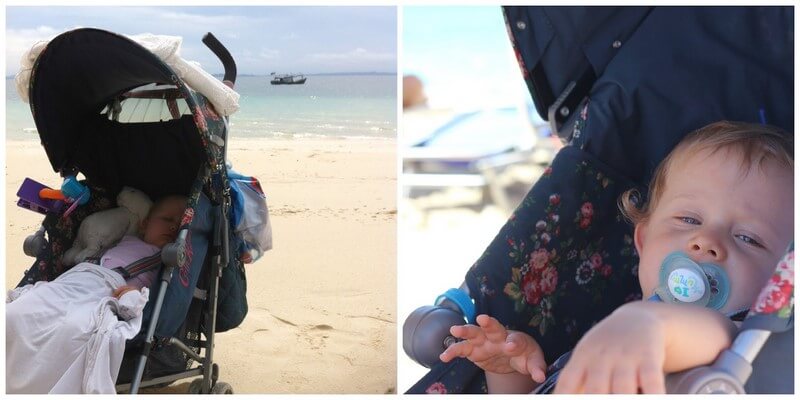 Up until now I have mainly been using our
Bugaboo Donkey
but now that Rufio is bigger, I actually prefer to use something smaller and more convenient. We took the Maclaren on holiday with us last month, Rufio seems really comfortable in it so I have been using it ever since. We have more than had our money's worth of our Cath Kidston stroller so I don't feel to bad about trading it in for something slightly more neutral in appearance. Mr Jones and I have decided that we would like to stick with the Maclaren brand it is just so trusty and reliable. I was asked to take a look at Maclaren pushchairs and here are some of neutral options that we are considering, I don't want anything too masculine as E very occasionally still uses the buggy so I'm going for something slightly more gender neutral this time :)
The Maclaren Triumph
push chair (Left) in black & charcoal is great value for money. I am obsessed with black framed buggies too these days!
The
Maclaren Quest
(centre) weighs in at just 6.4kgs and has four reclining seat positions.I love the black & Teal print, Teal is one of my favourite colours!
The redesigned
Maclaren Techno XT
(right) comes with a larger shopping basket- tres important! It has an improved break system, can be used from birth and has the obligatory black frame. This stroller literally has it all. LOVE!