As soon as my Faith in Nature products landed on the doorstep, I was impressed with what I saw. There was a note on the delivery label stating 'Responsible delivery- C02 Neutral' and when I opened up the package, the products were safely wrapped in biodegradable packaging.
Faith in Nature haircare products tick all the boxes for what you would look expect in natural products, free from parabens and SLS, no synthetic colouring or fragrance, vegan, cruelty free and also the bottles are made from BPA free plastic and made from recycled materials where possible.
The Haircare range has a great selection, I was intrigued by the Chocolate Shampoo & Conditioner but finally settled for the Lavender & Geranium range which their website describes as 'bringing calm to every day life' and I could definitely do with a dose of calm!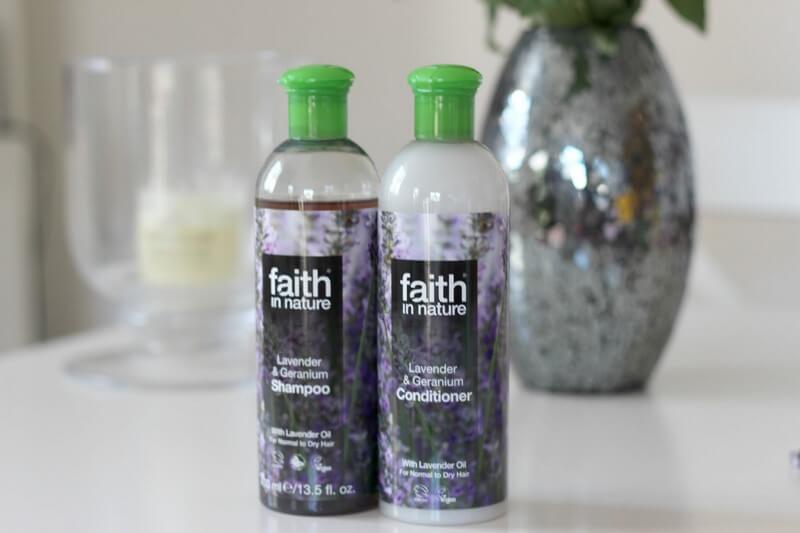 On to the actual results and the shampoo: I usually find natural shampoos difficult to lather due to the lack of detergents but this one is surprisingly effective and smells wonderful.
The conditioner is very light, I usually like thick gloopy conditioners because my hair is so dry at the ends. The first time I used this conditioner, I really piled it on on but actually I needed far less than I thought. Ok, so it isn't my usually heavy duty product but it conditioned my hair beautifully.
After blowdrying my hair felt lovely and soft, quite voluminous ( probably because it wasn't weighed down with gunky conditioners) and had a very subtly fresh lavender scent.
I have long been on advocate of more natural products that cut out the chemical nasties, but despite my good intentions, I often find myself rushing in to Boots and picking up the first thing I come across. I so wish that brilliant products such as these were more readily available on the high street. That said, I will definitely be ordering these again in future they have some great products on their website, including a range for kids which would be great for my two and there is even a range for pets!!
*PR Sample