So I've been having a bit of bloggers block lately. I had a pretty hectic time in December ( along with every other mama in the country I'm sure) but I ended up getting pretty stressed out. Along side work, blogging and being a mama, I was working on another venture, which incidentally didn't work out and was a total waste of time. I constantly felt stressed and tearful, my hair started falling out again and I found myself losing my temper with my little ones...... something had to change!
I decided to take a step back from social media to focus on enjoying Christmas and my family and you know what, it was so worth it! It made me realise what a time hoover things like Instagram and Twitter are and how precious my time is with my children, it felt as though there were more hours in the day!
So after my little break I'm slowly slowly dipping my feet back in to the world of social media and blogging and as I am totally lacking in inspiration I would play it safe with a Nails of the Week post. Here goes......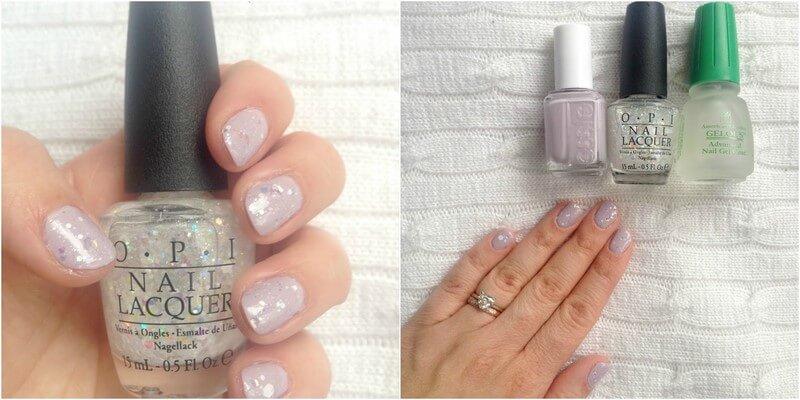 This week I am obsessed with this glittery polish from the OPI Gwen Stefani Christmas 2014 range, it's called Snowglobe trotter and it's full of gorgeous holographic and white glitters. I confess, I actually bought this for my 3 year old! I thought we could use it for a Disney Frozen inspired mani for her but I have sneakily ended up using it on my self, hee hee.
I have layered it on top of Essie's St Lucia Lilac which is a classic and one of my favourites. I'm not sure if I have ever posted it on here before but St Lucia Lilac is a really wearable greyish lilac shade which works well all year round.
I noticed the Shellac Hack on pinterest recently and I thought I would give it a go, it's basically a cheeky way of getting your regular mani to last longer by layering a topcoat called Gelous. The best part is of course that you can use your old nail polishes rather than gels and no UV lamp needed. I will let you know how I get on with it!
Hope everyone is having a great week!!