It was such a coincidence that
Honey's Mummy
sent me the link to her latest post, 'What's on your bedside table' because I was just thinking up a post of a similar theme. Except my post title would have been called 'What used to be on my bedside table'!!!
Since this morning, I am no longer able to keep anything next to my bed. A
certain little someone has realised that not only do bedside tables make great climbing frames, but they also contain hours of fun and entertainment.
Everything that used to reside on my bedside table has now been relegated to a shelf far out of little E's reach but I put it all back for a few seconds to take the following photos: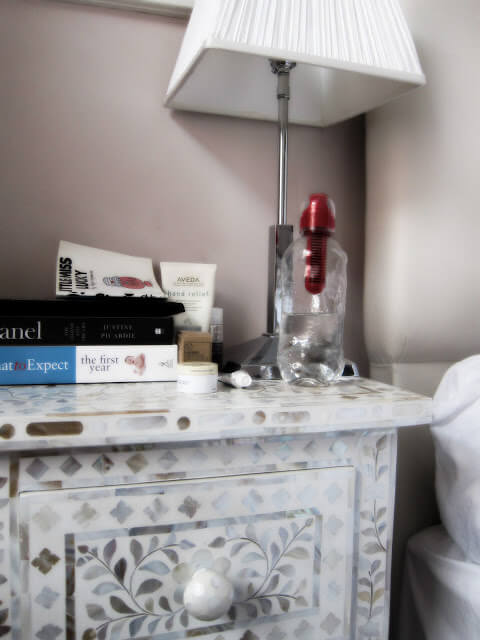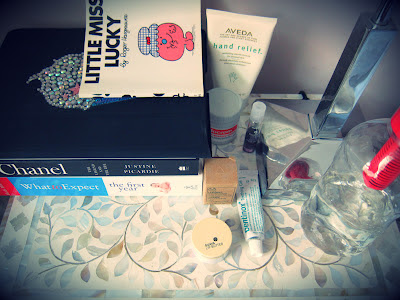 What Used to be on my bedside table:
What to Expect in the First Year- The follow up to What to expect when you're expecting.
Chanel- The Legend and The Life by Justine Picardie. Until we move, little E is still sharing a room with us which makes night time reading impossible unless it's on an iPad. This book has been sitting there for a while and I can't wait to read it.
Ipad- I am a bit of an insomniac and reading has always helped me to switch off at night, I don't know where I'd be without my Kindle App!
Little Miss Lucky- E's bedtime reading.
Aveda Hand Relief
- Seriously, who thinks up these names!! A friend bought this for me while I was pregnant as I had really dry skin. It's great because it keeps a barrier on your skin even after you've washed your hands
Sudocrem
- this is actually mine not my daughters and it's brilliant for getting rid of blemishes.
Aveda Blue Oil
- I suffer from headaches and migraines and this works wonders if I apply it to my temples and the back of my neck. Brilliant for pregnant ladies who aren't able to use pain relief.
Dentinox
- For little E's nighttime teething emergencies.
The Bodyshop Lavender Oil
- a few drops of this on my pillow not only smells gorgeous but helps me nod off.
Korres Guava Lip Butter
- I love Korres products because they are totally natural and of course they are Greek!! ( Gotta do my bit for the Economy there!)
Water Bobble
- I loved my Water Bobble until Mr Jones decided it needed sterilising. Unfortunately it kinda melted and has never been the same since :(
So..... ...
What's on your bedside table?
Honey's Mummy and I are dying to know!!! Please link up your posts using the
Linky
Tool below and don't forget to mention us in your post
xxxx