I don't know about you, but regardless of what jewelry I'm wearing, I almost always have an ugly hair tie on my wrist, 'Just in case'. Just in case it rains, just in case my daughter thinks I'm Rapunzel and decides to climb my hair, just in case the weather in the UK dares to go over 20 degrees and I get the teeniest bit hot.
I read an article a while back about these very chic looking hair ties that double as bracelets made by a brand called Goody but I haven't been able to find them, anywhere! Pretty aren't they?
Then I stumbled upon these beauties over at Anthropologie. I tried to convince myself that I would be one stop closer to yummy mummyness with these on my wrist instead of a scabby hair elastic, but I just couldn't part with £12 for a few hairbands! That's almost a week's worth of Starbucks after all!!!
Thank goodness for H&M! I found these almost identical hair ties for just £1.99! Hurrah!!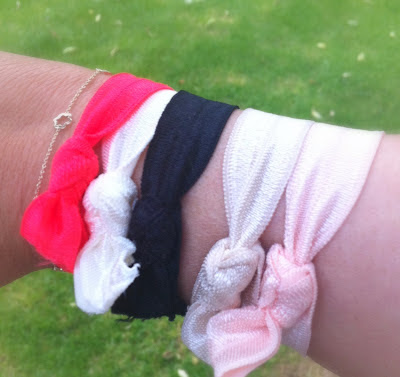 Then whilst having another browse in the Anthropologie sale ( I can't keep out of that place!!!) I found a packet hidden away in the corner, on sale for £3! Yes, the quality is superior to the H&M ones which have already frayed a bit at the edges, but would I pay £12 for a packet armed with this additional information? Erm, no!
Having done a little bit of research online, I discovered quite a few similar hair ties from Etsy seller Mane Message
HERE!
What do you think? Will you be trading in your trusty hair elastics for these?