So many women say that they bloomed when they became pregnant, but oh not me!! I spent nine months ( and quite a few after) looking like a pasty, spotty whale. Whilst I have managed to shed about half my baby weight and still trying to shift the rest, I have yet to get rid of the nasty acne around my chin area.
Anyway, if you missed it, there was an episode of TOWIE the other week where Chloe Sims recommended the use of Sudocrem to get rid of spots. I never thought I would be taking beauty tips from the TOWIE girls and least of all admitting to it! Although I do find their make up kinda fascinating....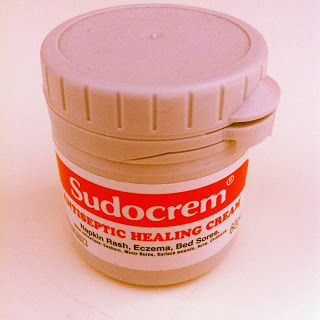 I don't use actually use Sudocrem on E, I use Zinc and Castor oil which is not only amazing ( we have yet to succumb to the dreaded nappy rash) but also comes at a bargaintastic £2.05 for 250ml which lasts forever!
Here's the link
LINK!
But like most Mamas I did have a couple of pots of Sudocrem lying around, so for the past week I have been giving it a go.
Guess what? It actually works!!! My skin is clearing up beautifully, and all for the purse friendly price of £7.04 for a whopping 400ml
HERE!