Last Friday, two little tweets came my way from Vikki @
Love From Mummy
and Lisa
Hollybobbs
which absolutely made my day. Those little tweets told me that my photo of little E and her
comforter
actually won last week's Pretty.Little.Things. So here we are displaying our 'I am a pretty little thing' badge with pride.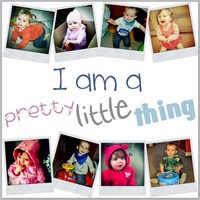 This week's Theme is Funky Footwear and being the shoeholic that I am I couldn't wait to put this post together. Everyone warned me not to bother buying shoes for my daughter until she was ready to walk and miraculously, I somehow resisted! Little E is just about able to stand up without holding on, for a few seconds. So, before we know it we're going to be shopping for shoes, Baby Bloch and Vivienne Westwood Mini Melissa's here we come........
She just about fits in to these cute Small Paul shoes bought by her Godfather, but they didn't stay on long before she tore them off.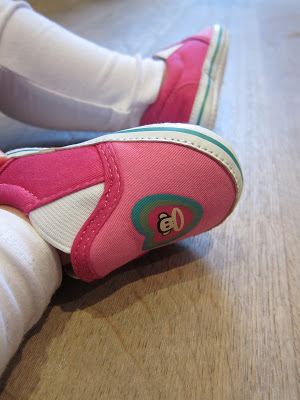 And here's little E checking out her inheritance :)