I just had to link up to Pretty. Little. Things today, hosted on
Hollybobb's
lovely blog this week, because their theme is calming comforters. Those of you who follow me on Instagram and Twitter, may know that we recently decided to clone little E's comforter so the theme was quite appropriate.
About a month ago my darling daughter decided that a dummy was no longer for her. She threw it away one day and refused to take it back. Isn't this what all parents dream of, a child who just gives up her dummy, without protest or the need to resort to bribery or trickery? Absolutely! Except she then needed to learn to send herself to sleep sans dummy......
Which is where Doudou stepped in.
No I'm not talking those nasty little surprises left on the pavement by irresponsible dog owners
Doudou is actually a toy bunny, and a very comforting one apparently.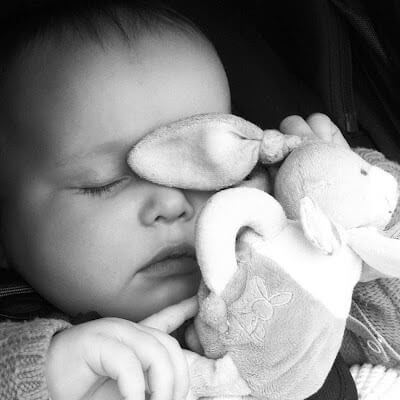 It was pretty much love at first sight and Doudou was the only toy E would respond to as a tiny baby.
A friend bought Doudou as a gift for little E from France when she was teeny. Doudou is the French word for a comforter and this little bunny has a big tag on it's botty with this written on it, and so the name just stuck.
The love between Doudou and little E has grown over the months, right now she will not be without it and Doudou comes with us wherever we go. She even crawls around the floor with doudou in her mouth, mimicking our dogs.
Unfortunately Doudou started to develop a certain Eau de Mould and whenever he went in the wash, all hell broke loose. So, I decided it was time to clone Doudou, to avoid distress and just in case he ever got lost.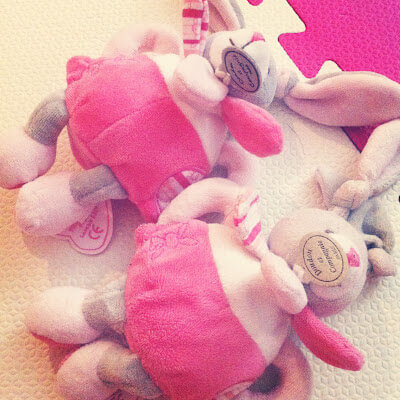 Have any of you cloned your child's comforter?
p.s. For more pretty little things, check out Love From Mummy and Hollybobb's fantastic blogs