Quite a while back, I wrote a post about my
Baby Travel Essentials
which included a section on our favourite apps to keep little ones entertained during a long flight. Since then, loads of my mama friends have been asking me for more and more app recommendations so I thought it was high time I wrote another post on them.
Aside from the Peekaboo Trilogy (
Peekaboo Barn
,
Peekaboo Wild
and
Peekaboo Forest
) which are still firm favourites. Here are our top three baby apps which can be used on both the iphone and the ipad:
1. Peekaboo Baby Touch by Ladybird
This one maybe just maybe just might topple Peekaboo barn in the popularity stakes right now! It has four different games, Peekaboo vehicles, sea, animals and farm.With plenty of bright and engaging animations, this fab app kept my little one entertained during a long and stuffy taxi journey last week.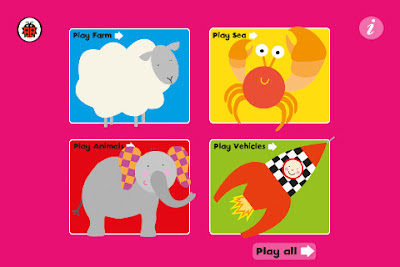 2.
Fisher Price
Laugh & Learn Shapes and Colours.
The best thing about this app is that it's totally free!!! And, as with most fisher price toys, it manages to keep babies entertained whilst introducing them to basic shapes and colours.
One small tip for parents, keep the volume on low for level 1, the noise this app makes is simply migraine inducing!!! You have been warned.....
3.
Mog the Forgetful Cat
This app, based on the classic children's book, is Mr Jones' current favourite. Whilst at 10 months, little E is still far to young to understand what is being read to her, this is a great way to introduce her to the concept bedtime stories, especially if we're travelling should we forget to pack any books.
By far my favourite feature of this app is option to film or record yourself reading the story, Mr J will still be able to read little E her bedtime story even though he may be the other side of the world on a business trip.