As some of you may have gathered from my post a few weeks back I absolutely adore Becca Cosmetics. In addition to their
Stick Foundation
and the Luminous Skin Colour, I am also addicted to their Beach Tint range. No I am not sponsored by them in any way, shape or form! I'm just a convert!
Beach tint is a super versatile product, it can be used as a lip or a cheek stain and it comes in a teeny weeny tube which can easily be thrown in to your handbag or nappy bag without taking up too much valuable space ( although you don't really need to cart them around because they stay on very very well!
Lately I have been using Beach Tint in Peach and also in Grapefruit. Peach is a really pretty coral colour which I love to wear on my lips alone or under my Becca sheer lip colour in Estella. I have some redness on my cheeks which I find is accentuated by this shade when used as a cheek stain. However, I recommended this to a friend who is also blonde with olive colouring and it looks amazing on her! Be warned, a little goes a long way with this colour, start with a smidge of product from the tube and build it up as desired, to avoid that 'I've just had a chemical peel' look!!!
My real love however is Grapefruit, which is an absolutely gorgeous light, but very bright, coral. It's one of those colours that just makes my skin look really healthy when worn on my cheeks. As with Peach, Grapefruit is lightly scented, I don't particularly like the smell of grapefruits but this smells lovely. I find that Grapefruit is much more subtle than Peach and for a more intense look, I sometimes apply a powder blusher on top. The Beach tint works wonderfully as a primer and helps keep the blush in place. It is advertised as being waterproof, I haven't actually tried this out myself, but *whispers very softly* I have worn it in the gym and it still looked perfect post work-out.Yes, I know you aren't supposed to wear make-up to work-out but lets call it research, ok? :)
Above and below L-R; Grapefruit, Peach.
Below I'm wearing Beach tint in Peach on my lips and Grapefruit on my cheeks with a tiny bit of Mac Blusher- Foolish Me buffed on top. Please excuse the pose, I'm not all that photogenic and usually end up pulling silly faces in an attempt to look vaguely normal.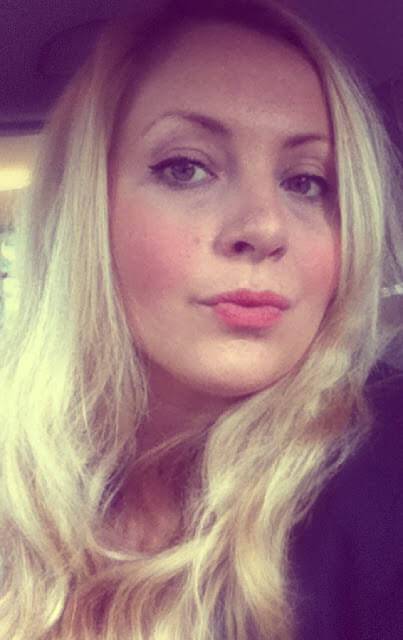 I usually buy my Becca cosmetics from their store in Chelsea but if you aren't based in London then either check out the
Becca Website
or
Zuneta.com
.