WARNING: Before you read any further........ this manicure is neither time saving nor is it particularly suitable for anyone of the age of 16. But it sure is fun!
I found this gorgeous image whist browsing
Pinterest
a while back, with this miserable weather we're having here in London, it inspired me to brighten up my nails and attempt my own version.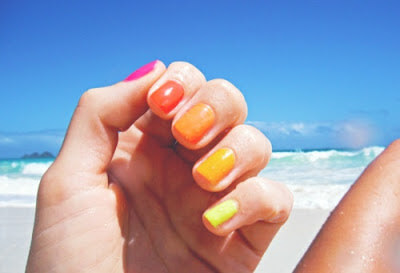 Whilst the nails were relatively easy to recreate, unfortunately the background wasn't readily available here in dreary old London, so I had to make do with my garden pond :)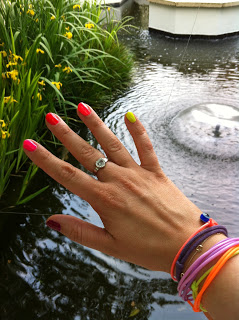 The colours I used to create the ombre effect this were L-R:
Essie Perky Purple ( Color Club Mrs Robinson)
Essie Flirty Fuchsia ( Nails Inc Notting Hill Gate)
Orly Passion Fruit
China Glaze Flip flop fantasy
Essie Funky Limelight ( Orly Glowstick)
Once I started writing this post, I realised that Essie shades I used were part of a limited edition collection which is no longer available, so I have added similar shades in brackets for anyone who would like to recreate this look themselves.
As ever, neon polishes tend to dry to a matt finish so I always use my trusty
Seche Vite
top coat to achieve a glossy finish and to help my nails dry in record time. In my humble opinion it's a must have product for any nail polish devotee.
So there you have it, a psychedelic, crazy, neon manicure which is totally inappropriate for a mother of one but I love it anyway. Whilst I can't fix the weather, I certainly need sunglasses right now....... just to look at my nails!!!!
UPDATE: Check out the original blog where the top photo was taken from
www.goldfishkiss.com/