I never ever seem to get time to read a novel these days and I absolutely refuse to give up reading altogether. I seem to accumulated quite a few cookbooks/ healthy living/ coffee table style books which I dip in and out of when I get time. It's kind of a compromise in that I still get to read but at the same time I feel as though I'm educating myself on a healthier lifestyle for my family whilst browsing some seriously delicious recipes. Here's what I'm reading right now: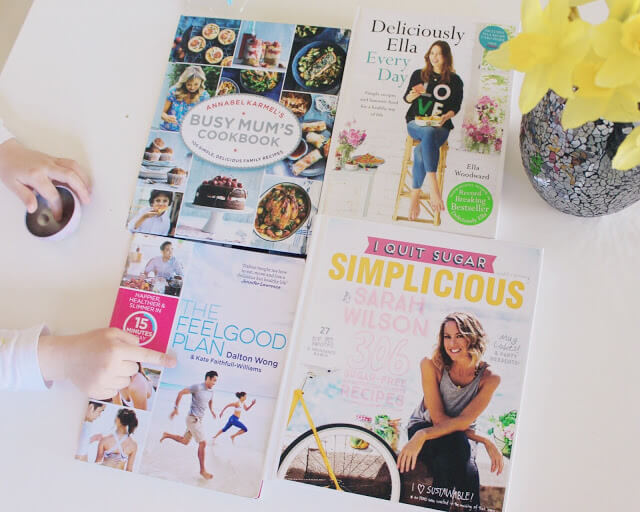 Annabel Karmel's Busy Mum's Cookbook -
I know I've probably mentioned it a few times but I'm a
HUGE fan of Annabel's
, I discovered her weaning books back when E was small which basically taught me that I could actually cook for my child without poisoning her and no we didn't need to rely on shop bought jars of baby food! I'm so pleased that she's brought out a book of easy & quick recipes for the whole family to enjoy, packed full of gorgeous images. The only problem is that, I can't decide what to cook so I think I'm going to have to work my way through the entire book!
Deliciously Ella Every Day - I read Ella's first book last year and it has seriously changed the way we eat as a family, for the better. I never thought Mr Jones would enjoy vegan recipes but he does, and we all feel so much better for it. Although this book isn't intended specifically for mums, because everything is plant based, it included heaps of sneaky ways to include goodness in your kids diets, without them even realising!
The Feel Good Plan by Dalton Wong & Kate Faithfull- Williams
This is a lovely book which is all about taking 15 minutes a day to look after yourself. This could be by eating well, exercising or doing something you love. The book is split up in to sections on Food, fitness and lifestyle and is written in an easily digestible format.
I Quit Sugar Simplicious by Sarah Wilson- I loved Sarah's first few books on quitting sugar and whilst I haven't managed to give it up completely we have significantly reduced our in take as a family and switched to healthier alternatives where possible. This book is mammoth and full of inspiring recipes for anyone looking to give up sugar - and who isn't these days?
What are you reading right now, I'm always on the look out for new books to read?