I've been on the hunt for a new coat, ideally one that has a hood so I don't have to juggle an umbrella along side everything else. I have the
practical mac
that's good for trips to the park whilst the little ones jump up and down in muddle puddles. Now though, I'm looking for something that a little bit smarter. Something that I can throw on for the school run but that could look smart enough to wear out in the evening. I have seen quite a few yummy mammas out and about in Chelsea wearing these gorgeous fur lined duffle coats. I did a little bit of research and I found a beautiful one from Burberry at an eye-wateringly expensive price.
Then, last week whilst having coffee with mamas from E's school. One lovely lady arrived in a gorgeous swingy duffle coat with the snuffliest and fluffiest fur hood. Of course I had to ask her where she had found what was literally my perfect coat. She informed me that it was from Maje and that it was one of their classic designs that they bring out each year. Excitedly, I hurried home to google it and lo and behold there it was... but only in beige!! Gone are the days when I would laugh in the face of practicality, there is no way that a beige coat would last more than a day without someone smearing chocolate or throwing a Babyccino over me.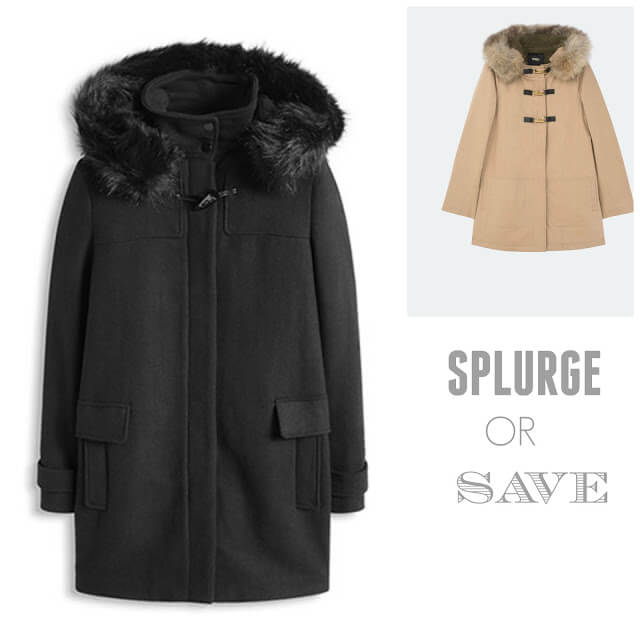 Above Left Esprit and right Maje.
Back to the drawing board that is Google & Pinterest and eventually I came across the most perfect little black duffle from
Esprit
. It's not too fitted, it has a fur hood and the price is looking pretty good too. I think I'm on to a winner!!
What do you think? Have you seen anything similar that I should check out?