What's the deal with double buggies? There are heaps of stylish AND practical strollers around for 1 child but when you move on to the doubles it seems you have to compromise between something ugly but practical or something that looks great but is like pushing a tank around.
With Baby Jones 2.0 due in under 3 months, Mr Jones and I have been doing some serious research in to double pushchairs, yet we can't seem to find the perfect one. These are our top 3 so far.....
1. The Bugaboo donkey- we visited Peppermint in Chiswick who very kindly allowed us to take the Donkey home with us to check that it fit in our boot and importantly, through our front door! We just managed to fit it in the boot of our BMW 1 series, in the Duo formation ( i.e. 1 cot and 1 seat) . As with all Bugaboos it is a super cool ride, E loved sitting in it, it's relatively easy to collapse, especially if you are already familiar with the Bugaboo Chameleon. Most of all, I love that both siblings travel first class, I'm not a fan of the tandem buggies where one child can only see the back of the seat in front although I totally understand their practicality from a parent's point of view. My main problem with this stroller, and this could be the deal breaker, is that it feels very very wide. The shop assistant told me that in the Duo configuration, the donkey measures 74cms which is less than the width of an average door and roughly only 10cms bigger than the Chameleon. It did fit through our front door although I'm not sure how long our newly painted hallway will remain pristine with this baby being carted around.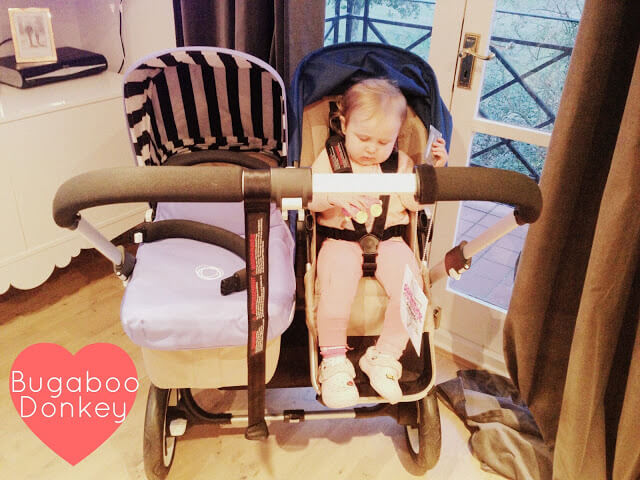 2. Mima Kobi- from an aesthetic point of view, this is my absolute favourite. The Kobi is a beauty, I totally fell for it just like I did with our Stokke Xplory. It's a piece of cake to collapse, it's a dream to push around, I love the clever design and the way that when not in use the carrycot can be conveniently stored in the back of the regular seat. Even though this is a tandem stroller, there is quite a large gap between both seats so both children get a good view. As with the Xplory, child at the top has the advantage of close contact with the parent although obviously the child underneath cannot benefit from this. At 20 months, little E ( or not so little as it seems) is apparently rather tall for her age, her head already touches the top of the canopy when seated in the Kobi so I wonder how long she would be able to sit comfortably in this seat. For this reason, even the sales assistant admitted that the Donkey was the better option. I was heart broken!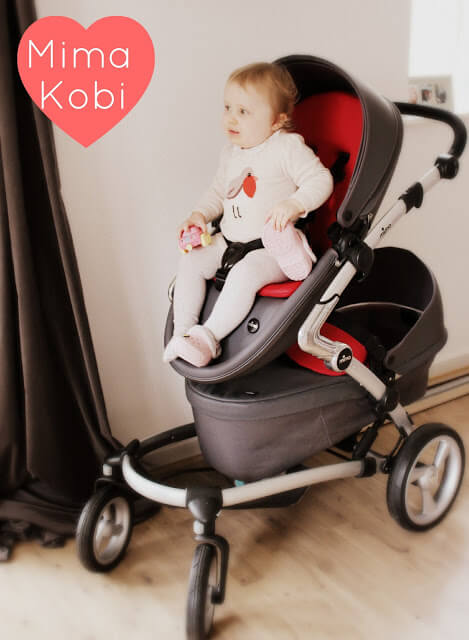 3. Orbit double Helix- This has yet to be released in the UK so I can't really comment on this but from the images on their website, what I like about this stroller is that both children have great seats and as it's an in line stroller, I wouldn't have to worry about it being too wide. For the techno geeks among us it even comes with a built in iPad holder!!!! I contacted Orbit via their Facebook page and they told me that the double Helix should be available in the UK from July. As little bean is due mid July, I'm wondering if this is cutting things a little too fine if on closer inspection, we don't actually like this pushchair.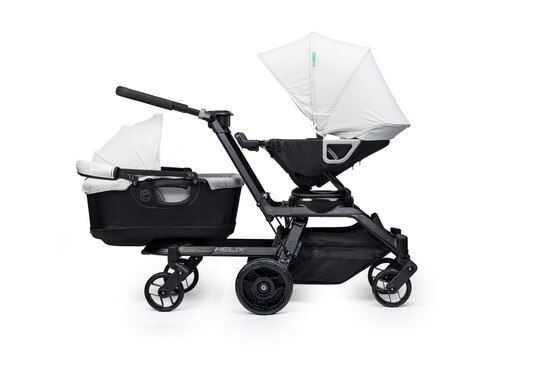 All in all I can't actually find anything that makes me willing to part with my beloved Stokke Xplory. Yes, Stokke have introduced a sibling seat for their new Crusi stroller but it is apparently only designed for occasional use. I have seen the Crusi in person and sibling seat really does seem like an afterthought, placed in the middle of the shopping basket, the seat only seemed to have one position so I don't think this is an option for us, why Stokke why?????
Writing out the pros and cons for this blog post I can see that the Donkey probably makes the most sense for us, and I do quite like the look of the new all black chassis. What do you think, are there any other models of double strollers that I should investigate?