A few weeks ago, we woke up one gloomy London Wednesday morning and decided to hop on a plane and go visit our family in Greece for a few days. We've always been a bit lastminute .com in our family and whilst it's nice to have things to look forward to, I always feel as though I'm wishing my life away so whilst it's not for everyone, it suits us. Admittedly this is much easier as a couple sans baby, but we made it and we had a great time. Little E had her first ever swim in the sea, which she absolutely LOVED! She is a true water baby it seems.
Anyway, as you all know I'm a touch obsessed with beauty products so of course I had to tie them in to this post somehow. I hate flying, so a mini haul at the cosmetics counter in the departure lounge was in order to distract me from my impending flight.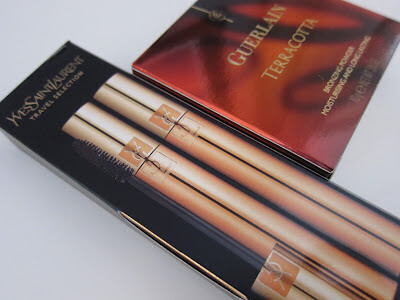 YSL False lash effect mascara is an old favourite of mine. I sometimes flirt with other brands of mascara, but nothing comes close to this baby for volume and lengthening. The other day Mr Jones asked me if I had been using some of 'that eyelash stuff' because my eyelashes looked so long ( I think he meant Rapidlash) I hadn't, I'd just starting using my YSL Mascara again *does a little happy dance*
This mascara retails for about £23 but at the airport you can pick up a pack of two for £36. So if you love this mascara it's worth stocking up when you're passing through the departure lounge, or if you know someone who is and who doesn't mind carting beauty products around the globe for you.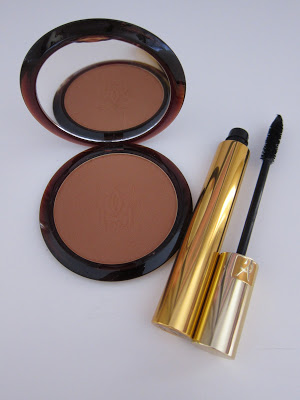 Guerlain Terracotta Bronzing Powder is another old favourite! It has just the right amount of shimmer, too much looks silly and too little makes my skin just look dirty. I bought this in No2 which is exactly the colour of my skin with a light tan. I don't remember how much I paid for this, I blame the Valium I had for the flight, it makes my brain a little fuzzy :)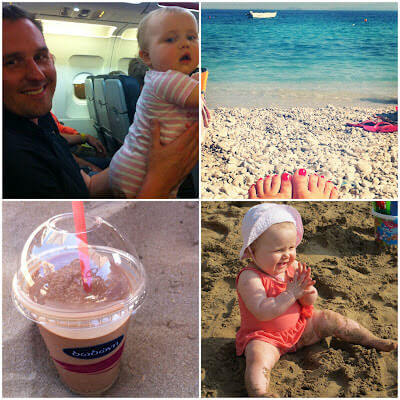 And finally, some photos from the holiday
(clockwise from right) The Aegean Sea! I'm wearing Orly Passion Fruit on my toes; Little E wearing her new swimming costume at the beach; I LOVE Freddoccinos, they are kind of like Frappuccinos only a million times better!!; Little E and Daddy on the plane, she stayed awake for the entire flight despite take off being at 10pm!
Little E is already a seasoned traveller, she took her first flight at just 5 weeks old. If your going to be travelling with your little one in the near future
HERE
are my travel essentials when flying with a baby.