Now I have always been a bit on the fence about fake tan, mainly because on me, it always looks just that, fake! I have tried loads of different brands, some look awful, others fade dreadfully, then there are some that look amazing with a base tan, which kinda defeats the object.
Recently though, I have been using a brand that is slowly changing my opinion on fake tans and that brand is St Moriz ( No, I haven't been on the Pimms already and getting confused with another similarly named brand).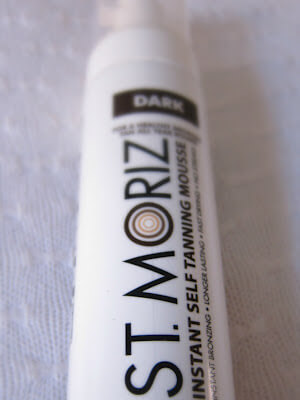 One of the best things about it is the price, £4.95!!! I bought mine from amazon
Here
. In my humble opinion it is equally as good, if not better, than most of the expensive fake tans and salon spray tans that I have tried.
Initially, I tried the medium tan mist, whilst the colour was very natural the mist was more like a pathetic little dribble. So this time I opted for the mousse and feeling brave, I went for the darkest shade.
I love it! I feel like I've spent a week on holiday in the sun! On my skin I find that the colour is very natural, it lasts about 6-7 days and fades quite evenly, except for around my wrists (but nothing that a good exfoliation wouldn't sort out). I do find it's a bit drying so I make sure to apply lashings of moisturiser to prevent dryness. The darker shade means that I don't have to apply a second coat the next day in order to achieve the colour I'm looking for. As a mama of a nocturnal baby, the last thing I feel like doing most nights is applying fake tan, so cutting out one coat is definitely a plus!!
Ooohhh
and what about the all important fake tan smell? Well, there is the faintest
eau
de
biscuit but I really have to sniff to notice it.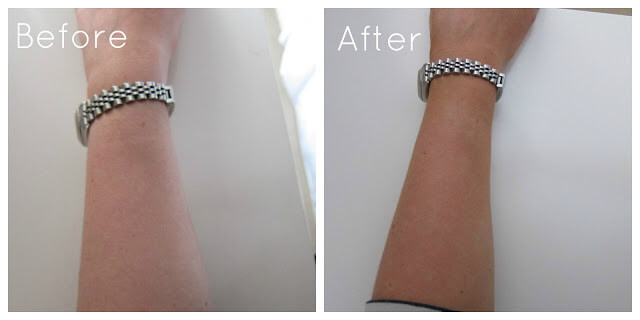 I'm by no means an expert in fake tanning, but here are my top tips for a natural looking tan and avoiding looking like an oompa loompa:
As with most cosmetics, there isn't a one size fits all product. Hunt around for one that suits your colouring and is closest to the shade that you would naturally turn in the sun.
Exfoliate!! The morning before you apply fake tan, three days after application and then every other day.
Moisturise!! paying attention to your knees, elbows, ankles and wrists, these are always my problem areas anyway.
Right after you've applied your tan, gently sweep a baby wipe over dry areas such as knees and elbows to prevent tell tale dark stains.
Use a Mit for streak free application, I use this one from Boots Here and it really does make a difference.
If your fake tan becomes patchy after a few days, use a gradual tanner to help even out your colour.
So I've found my go- to fake tan but I'm still looking for a good one for the face. Which brand do you use?