I hate wasting things so I was really annoyed with myself when I accidentally left the top off my Benefit Cream eyeshadow the other week, causing it to dry up!! I've read quite a few blog posts about repairing cream shadows and cracked powder pallets with surgical spirit ( or rubbing alcohol as I believe it's called in the US) and so I gave it a go myself.
To 'repair' my blusher and eye shadow ( below) I used:
Surgical Spirit
Atomiser refill kit from Muji ( I shall explain....)
Kitchen Roll
Something with a flat, circular bottom ( I used a nail polish bottle but you could use a 2p coin for example)
I used the flat tool from the Muji kit to crush up both products. Then I filled the pipette (from the Muji kit) with surgical spirit and added some drops to the blusher/eyeshadow. The amount you need varies as to how much product is left and also in the case of the cream eyeshadow, it depends on how dried out it is. Start with a few drops and build up accordingly until you get a thick paste.
I then wrapped the kitchen roll around the bottom on the nail polish bottle and pressed the bottom in to the pan/ container to compress the paste.
I left both containers open over night for the surgical spirit to evaporate as much as possible. Obviously, you need to be very careful how long you leave the cream shadows open, otherwise you end up back at square one!
I have since used both the blusher and the eye shadow and they are as good as new!!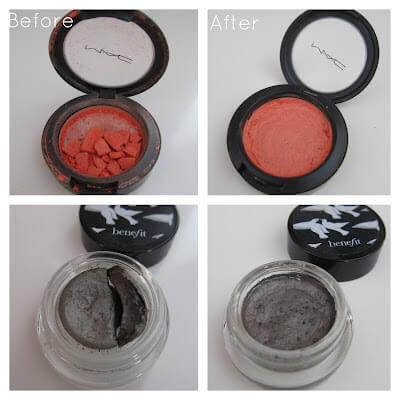 Now I'm sure you all know about nail polish thinner, but I must confess that I have only discovered recently. Instead, I used to attempt to rescue dried up varnish with nail polish remover which definitely doesn't work!!!
Instead I now revive old polish using a few drops of Orly Nail lacquer thinner, like this gorgeous and sadly discontinued shade by Mavala.