So I managed to keep my
Shellac Tropix
on for a record two weeks, by the end it was lifting at the sides and no matter how satisfying it may be to peel off gel polish, I somehow resisted! My manicurist had promised me that if I kept the Shellac on for 14 days and came back for another manicure then she would remove it free of charge. Although there were zero chips, it had grown out considerably and I was glad to have a change of colour!
This week I chose Essie's very aptly named Turquoise and Caicos, which is a perfect match for Tiffany blue as you can see from the photo below. It really is the same colour as a Caribbean sea and makes me think of holidays and sunshine - much needed given the dreadful weather here in London.
I have another shade by China Glaze, beautifully named For Audrey which also claims to be the same shade as a Tiffany box but to me it is a little too blue to match the Tiffany shade. For me, the slightly greener tone of Turquoise and Caicos is far more flattering and helps to avoid that frost bitten look which For Audrey tends to give me.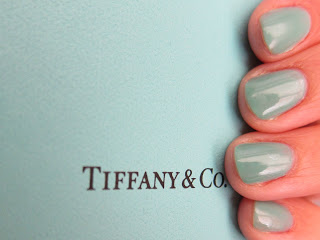 Crossing all my digits that this shade lasts a few days, my track record with regular polish isn't all that good!
Turquoise and Caicos also reminds me of a beautiful shade that Balenciaga brought out a few years ago which I loved because it was called Papeete, the capital city of French Polynesia where we went on honeymoon ( yep, I'm that shallow that I would buy a bag based on it's name, Lol! ) The photo below is taken from fab blog which I love pouring over
www.lovebbags.com
dedicated solely to Balenciaga handbags. Balenciaga bags may be super expensive but they are great investments as they really hold their value compared to other brands. I currently use a black and rose gold city but I could definitely be tempted to swap it for a papeete :)