My Mother's signature phrase is 'Well, I'm a bit particular' which is usually followed by a round of giggles from my Sister and myself and sometimes a touch of annoyance. You see, what this really means is 'I'm a complete Germophobe and how did I raise such unhygenic children?'
Lately these four words have been used quite frequently when we arrive at a restaurant and ask if they have any high chairs for the babies. In my mothers mind, putting our babies to sit in a restaurant high chair is pretty much the same as allowing them to lick public toilet seats!!
Don't get me wrong, I don't exactly want to expose my daughter to unnecessary germs and dirt, I always wipe the chairs over with Milton wipes before we allow her to sit there. But I do believe that kids do need to be exposed to a certain amount of germs to build up their immunity.
Over the last few weeks, we've all been ill with a virus and I'm pretty certain than my mother thinks that littke E caught it from sitting in restaurant high chairs! I know this because the other day she bought both my sister and I this First Years Booster Seat from Peter Jones for us to use when we are out and about with the girls.
Here's some photos of little E sitting happily in her booster seat in Ikea yesterday.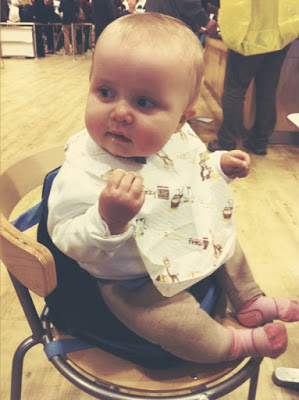 I'm sure Mamas who have slightly older babies will be more than familiar with this item. Right now we're using this in place of a high chair, but when she gets older and is feeding herself then there is a zip which opens to inflate the seat part to bring her closer to the table top. It also folds up to what looks like a small brief case that can be carried about easily, I tend to stow mine in the bag underneath our stroller. Little E is 9 months old now and this is perfect for her although I am not sure it would have enough support for a younger baby.
As we left the Restaurant area in Ikea yesterday, I actually caught myself turning my nose up at a stack of grim looking high chairs piled up in the corner. Whilst I still probably don't rank that highly on my mothers 'Particular' scale ( only she scores 10/10) I am certainly a booster seat convert!