This week I'm wearing this gorgeous summery teal polish by Rimmel called Sky High. Not only was my inner magpie was drawn to this shade but I was also intrigued by the claims that it dried in 1 minute with only one coat of polish needed.
Below you can see one coat of polish. Yes, it was touch dry after 1 minute but as you can see it was really streaky and uneven and much in need of a second coat.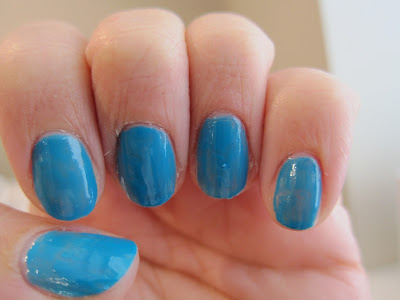 The next photo shows two coats, which of course took a little longer to dry, with a further coat of Seche Vite for extra shine. It lasted about two days before chipping which is pretty average.
One thing I HATE about this polish is the brush. It is advertised as having a flat brush for easy application when in reality it is this stumpy horrible thing with is very difficult to control when painting smaller nails like little fingers and toes. Also make sure to use a base coat with this shade because it does stain, leaving you with green tinged nails that Grotbags would be proud of!
I don't think the camera captures just how pretty this shade is and I think it's the perfect teal now that summer has finally arrived here, but the best part is that it costs just £2.99 from
Boots
.!!!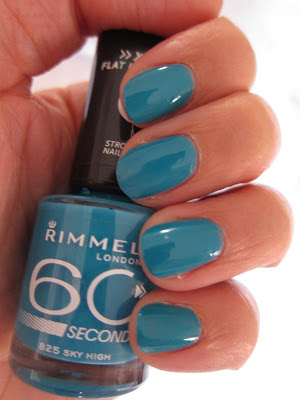 I have decided to have a few weeks break from gel polish. Yes, in theory it isn't supposed to damage your nails but mine have been peeling loads recently so I'm just going to use regular polish for a few weeks to give them a chance to recover. Regular polish only ever lasts me a few days so look out for lots of nail polish photos in the coming weeks.