At the moment, I can't get enough of Mac's Shy Girl and Impassioned lipsticks. You couldn't get two more different colours, one is nearly nude and the other is a vibrant fuchsia. I mentioned Impassioned in a post a while back
HERE!
but I love it so much, I figured it deserved a post of it's very own.
Here's why I love it:
- It's an outfit
all
in it's own right, it doesn't matter what else you're wearing.
- It stays on so well I have to remove it at night with baby wipes
- I get a ton of compliments whenever I wear it and that doesn't happen very often otherwise!
- I got it free with Mac's 'Back to Mac' recycling program. Take in 6 empties and you get a free lippie.
Here's some more info
Link!
And here's what it looks like on. Before you ask, I swear I didn't deliberately match my lipstick to my pram....... or to the frozen yogurt ;)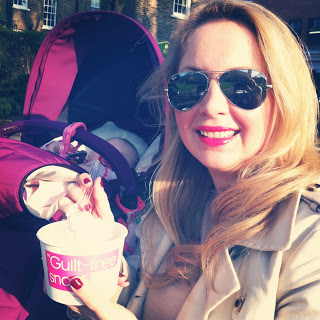 Oh and here's the link to Impassioned the Mac website:
Link!