Here's a quick post on a fantastic new hair product I recently discovered. I have been using Moroccan Oil for a while now, but my bottle finally ran out after about a year a and a half of constant use!! Whilst I have no complaints I quite like to try new products, all in the name of research of course!! On a trip to my local hair salon, I enquired about Kerastase's Elixir Ultime and instead they sent me away with a sample of Redken's multi talented All Soft Argan-6 Oil, so called because funnily enough it has six different uses:
Heat protector
Shine enhancer
Post shampoo conditioning treatment
Pre shampoo moisturiser
To smooth hair post blow dry
Over night treatment
Here's some more info from Redken themselves Link!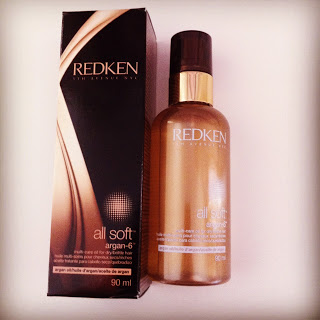 I haven't really been using it long enough to comment on any improvement to my hair itself but on the whole my hair feels super soft ( usually my hair feels like a brillo pad so this is a definite plus!) I love that I only have to remember to use one product these days, which is also brilliant for travel, leaving me with plenty of room in my washbag for sachets of calpol and tubes of dentinox....
The product itself feels just like any other hair oil. A little goes a long way so you don't have to use much at all and unlike so many hair products it has a very subtle and inoffensive caramel scent.
I picked up mine from Beauty Flash Shop Here