How often do you eat dinner as a family? Research shows that
a quarter of children regularly eat their evening meal in their bedroom
with 78% of youngsters eating dinner while watching TV. This is of course in part due to the fact that many families have a daily routine that simply doesn't allow everyone to gather together every evening.
If kids finish school at 3.30pm and either parent doesn't get through the front door until after 6pm or even later, it's tricky to pin down a suitable time when you can all sit round the table. Then there's the question of table space. Simply put, fewer homes are being built with dedicated dining rooms and those that are lucky enough to have one are not always accommodating enough to fit in a lot of furniture. If this sounds like your home, this post is for you, because today we're looking at fixes to help make small dining rooms more family friendly!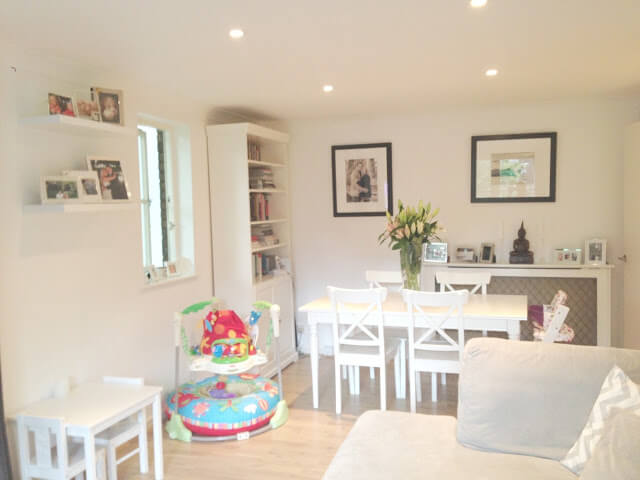 Colour
Does your dining room look a little too cosy? Rich, dark colours can have lead even larger spaces to look more confined, so if you'd like to use some interior trickery to make your dining room at least appear larger than it is, it's time to reach for the paint pots and brushes and give things a refreshing lift. Paler, unfussy shades combined with clean lines can help a room to feel larger, though you don't need to avoid colour completely. Colourful accessories and cut fresh flowers can add a welcome splash of colour and allow your room to be easily updated to match the occasion and the season. Whether you're entertaining guests at a dinner party or sitting down for dinner on a Friday evening, dressing the room for the occasion can make things feel a lot more special.
Furniture and furnishings
Sometimes there's just no getting round the fact you don't have the square footage for the dining table of your dreams but that doesn't mean you have to ditch the idea of family feasts completely. There are lots of clever furniture and furnishing combinations that can help you make best use of the space you're working with, providing comfort and convenience to boot.
Extendable dining tables are the space saver's friend, folding away to provide more floor area when not in use. So, if you tend to find your dining room doubles up as a play area or you use your dining room as a thoroughfare to the garden when you're not eating, it could be your saving grace. Another option is to use dual-purpose dining furniture. If your dining room also happens to be used as a study, could you select a desk that could double up as a small dining table? Don't dismiss small coves and corners, which can be used to house built in furniture that looks stylish and saves space. Could you build a dining booth complete with benches into an awkward corner or perhaps use the wall space for storage using floating shelves? Think about your seating arrangements too – stackable chairs can be put out of the way when not in use while benches can slot under tables and may even allow for built in storage too.
Dining tips
You might not always make it home in time to eat together, but setting aside at least one evening where you all sit around the table to talk through the week can actually make family life move more smoothly at other times. It may be that setting up a dining space for such an event is much more practical if done on a weekly basis too. Those pushed for space could consider spreading into other areas with the help of bi-fold doors to allow for outdoor dining or ease of movement between living room and dining areas. For
external
and
internal
folding door options, try the Vufold range – these can be fitted without a bottom track so that you don't find yourself tripping over, dinner plates in hand. While you may want to place a ban on iPhones
and iPads at the table, you could employ some old school gadgetry to help you serve things up more efficiently. For example, could a food or drinks trolley help you solve small table issues? Bar carts and trolleys are very much back in vogue and there's no rule that says they can't be used to serve up the kids' milkshakes and desserts as well as martinis!