Spring is coming, and with it the sixth season of Game of Thrones. This spellbinding, gory and utterly addictive series has captured hearts and imaginations all over the world and in these days of individualised weddings, why not bring a bit (or a lot) of Westeros and Essos to your nuptials?
No-one's suggesting you take this literally and let family feuds go that little bit too far (ahem) at the reception, or have your ushers dressed as White Walkers; it's more like capturing the stunning looks and effects that author George RR Martin and HBO have together conjured up. You can go as small or as large as you like here, but here's some thoughts to inspire you.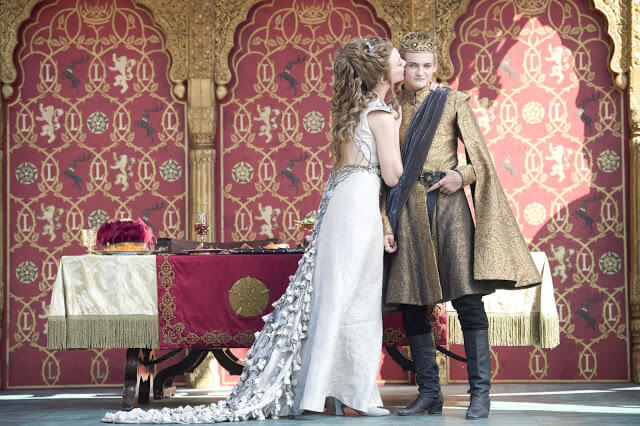 Incorporate the colours of the three GoT weddings into your palette
Namely red, purple and black; this sounds dramatic, but done with a subtle hand, it can create some gorgeous and memorable scenes. Try red and purple flower arrangements, or dress your bridesmaids accordingly. You might even want to don a red dress yourself, or have tablecloths or place settings to reflect the hues of these pivotal events in the series. The good thing about it is that only thos e in the know will really get it – and they'll love you all the more for it.
Choose an unusual venue for your wedding
Forget the registry office – you want stone or wood as your backdrop and you want old and you want somewhere out of a modern city. Cheshire's Heaton House Farm is one of the
wedding venues North-West England
has to offer to couples looking for atmosphere.
Go all out with the cake
Recreate the lavishness of the feasts at the Purple Wedding by having a tall golden cake surrounded by heaps of exotic fruit – figs, grapes,
pomegranates
and so forth. Or you could have a cake shaped like the huge pie Joffrey Baratheon hacks into (without the doves, of course). Alternatively you could have a black, white and silver cake with your names, or a dedication, written on it in that amazing font we all know and love.
Then there's the dresses
Where do we start? There's the woollen, rustic but sumptuous gown that Sansa wore to marry Ramsay (such a pity it was ripped…), if you're planning a winter wedding. You could wear a gold grecian style dress with gladiator sandals and gold armbands if you're getting married in the summer. Your groom could opt for a long black Nehru-style suit a la House of Bolton, or a gold and purple brocade outfit like Joffrey. We could be here all day…
Hearty food
There's no such thing as fussy nouvelle cuisine and amuse bouches in GoT – you want to think big. Get a hog roast, huge pies, trays laden with fruits and flowers, whole roast chickens covered in herbs and of course Sansa's favourite treat, lemon cakes. Incorporate braziers and ice sculptures at and around the table too – it is after all, a song of ice and fire…