I looooove fashion and shopping for new clothes but I find dressing whilst pregnant ridiculously difficult. It's so hard to find clothes that aren't frumpy yet are still comfy so I've got to hand it to all those expectant celebs who have to dress for the cameras on a daily basis. It seems that there's a bit of a celebrity baby boom going on once again, so I've put together some of style favourites from recent celebrity mama's to be:
Lucy-Jo Hudson
: Truthfully, Former Coronation Street actress Lucy- Jo Hudson isn't really someone who's ever been on my style radar although since she announced her pregnancy I've been really loving her look. She looked absolutely perfect in this Grecian inspired Tiffany Rose Anastasia gown which she wore to to the British Soap Awards last month.
The gown could easily be worn as bridal wear but Lucy-Jo has managed to explore the gown's versatility and steered her look more towards classic old Hollywood style rather than the aisle, thanks to her vibrant red lipstick, classic up do and statement jewellery.
To recreate this look, the link to the Anastasia gown can be found
Here.
The best of the rest:
Kourtney Kardashian:
In my opinion, Kourtney, who gave birth to baby Penelope last summer, is by far the
most stylish of the Kardashian clan.
I absolutely love this red swing dress and black Louboutin combination.
Sienna Miller:
It comes as no surprise really that the eternally stylish Sienna had no problems translating her boho chic style in to maternity wear, whilst expecting her daughter Marlowe. The
Breton stripe top
and jeans look could easily be worn post pregnancy and the cape adds a touch of luxe to the look.
Malin Akerman:
Swedish beauty Malin looks effortlessly chic in this flattering black daytime outfit, whist pregnant with baby Sebastian. The brown boots and scarf lift the look and prevent it from looking too sombre.
Fearne Cotton:
Fearne Cotton was quite open about the fact that she detested maternity wear and instead opted to wear items from her own range, a few sizes larger than normal. I love her in this blue floral dress which she wore on the red carpet although if you look closely you can tell that it's not maternity wear because it's raised slightly at the front, where the cut of the dress hasn't allowed for a bump.
Kristin Cavallari:
As with Lucy-Jo Hudson, I hadn't really paid much attention to 'The Hill's' Star Kristin Cavallari's dress sense, until she became pregnant. This grey evening gown looks super elegant and the ruching flatters her bump impeccably.
Kristen Bell
: Kristen looks incredible in this grey billowing Jenny Packham gown, to create a similar look check out the red carpet collection from Tiffany Rose
Here!
Fergie:
I absolutely adore Fergie in this Mary Katrantzou dress which she wore to the Nickelodeon Kids Choice Awards earlier this year. Admittedly she was then much earlier on in her pregnancy than some of the other celebs shown, Fergie really shows us how to get away with wearing regular clothes when pregnant ( poor old Kim K really should have been taking note!)
The Duchess of Cambridge:
When it comes to
dressing the bump
,
Kate really can do no wrong in the eyes of the public. This peach Tara Jarmon coat has been one of my favourites. However, with every fashion house known to man begging to dress her, I do feel that she has it easier than most so she really should be getting it spot on! I think that she dresses a little old for her age, but it's nothing that a fabulous statement necklace couldn't fix!
And, and I have another teeny weeny bugbear- Kate and I are due the same day and my bump is ( no joke!) 3 times the size of hers. I think it's far easier to dress well when your bump is relatively small. Meanwhile, I'm sitting at my laptop looking like Mr Greedy, so yes, I am just the slightest bit jealous!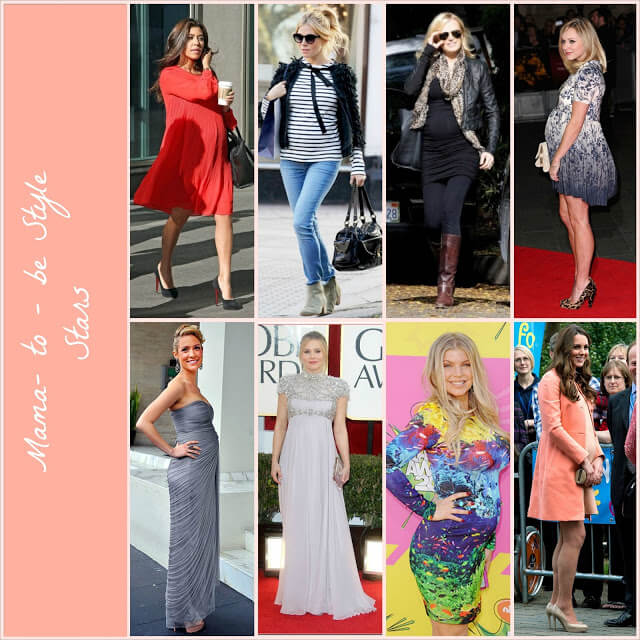 I really debated over whether to do a whole 'what not to wear' section and generally I like to stay away from negativity on the blog ( I need all the good karma I can get right now!) But I will say that whatever style choices you make when pregnant, do not, I repeat DO NOT, even consider wearing nude and Perspex stiletto sandals, when you are suffering from swollen feet, or any vertiginous heels for that matter. I have no problem with women wearing heels during pregnancy but Kim Kardashian's sandals in the photo below just look as though they are cutting off her circulation. I know she has an image to uphold, but this outfit just looks uncomfortable.
*This post is a PR collaboration.