How I came about owning this eyeliner was a bit of an accident. At the airport on our way to Greece last month, I realised that I had forgotten my beloved Chanel le Ligne cake eyeliner so I dashed over to boots and picked up 'any old eyeliner'. Of course, said 'any old eyeliner' was an utter pile of poo and waste of money which irritated my eyes and smudged all over the place. By mid afternoon I was looking like a lame Alice Cooper tribute act!
Que, a great excuse to visit Sephora in Athens ( like I need an excuse!) I love Sephora, I became addicted when I used to live in Paris and would spend hours browsing, I so wish we had it here in the UK! They stock excellent brands like Make up For Ever which is notoriously hard to get hold of here. After a quick dicussion with the sales assistant, I decided to try out Make up For Ever's aqua liner in black, a waterproof liquid eyeliner.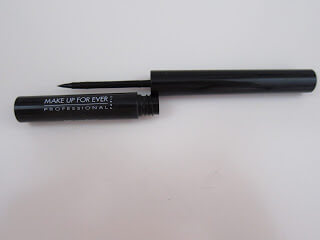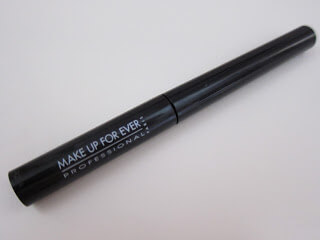 Being a mama, I'm all for make up that stays put through out the day, The sales assistant assured me that this stuff would not budge, and boy was he right!!!!!
This baby does not smudge, it does not crumble and end up in a heap just below your eye. It stays beautifully put until you remove it with some waterproof eye makeup remover, I use
Garnier Simply Essential 2 in 1 Make up Remover
which is just about gentle enough for my super sensitive eyes.
Below you can see what the eyeliner looked like when I first applied it and again last thing at night. When I finally removed it, it wasn't quite as bold as it was first thing but still holding on pretty well.
Even when I rubbed my eyes this stuff didn't come off, instead eventually it would peel in this weird sort of vinyl like texture. Once it's on it's pretty much there for good!
The only slightly negative things that I have to say about this liner are that
a) You have to be careful not to get any on your lashes because they will clump together quickly and make mascara difficult to apply
b) I find it tricky to get a very precise line with this, although this could be down to my technique as I am unused to using liquid eyeliner.
The best website for Make up For Ever products in the UK seem to be
and
Otherwise check out a Sephora next time you're on holiday :)