There is lots of excitement in the Jones household, because our new Stokke Tripp Trapp high chair arrived the other day from
Back in Action
and we are loving it!!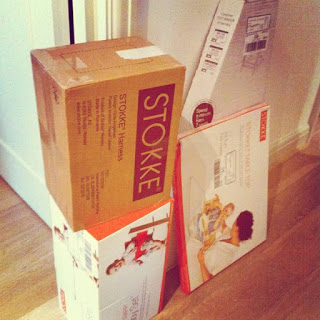 We already have the Xplory and the Sleepi so you could say we are Stokke converts. If you have been following my blog you will know that we were undecided between the Stokke and the Bloom high chairs. Well we came to a compromise with me getting to chose the colour scheme. The Tripp trapp comes in a huge variety of colours, but I felt the white went best with our decor. To make the chair a little more fun, I went for the Purple baby seat and the purple tails cushion. The Tails cushion is soooo cute, it has a little animal design in pink and purple shades AND it is also water repellant, which we love!!!
I put the chair together myself. It wasn't complicated taking me about thirty minutes or so. I just wish that someone had told me before not to tighten the screws until the end because I ended up losening them time and time again while I added the chair back and the footrests etc.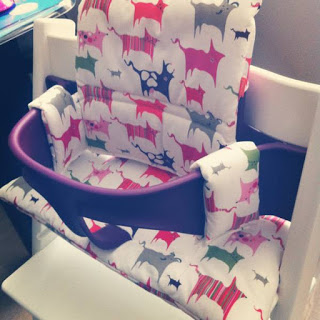 This high chair doesn't come with a tray, so the great thing about this is that little E gets to sit at the dining table with us which she absolutely loves. Instead I ordered the Table Top, which is like a transparent tray that attaches very firmly to the dining table with little suckers. It comes with four different templates that you can change around easily. We also bought the harness although I haven't used this yet. You can just about see the tray below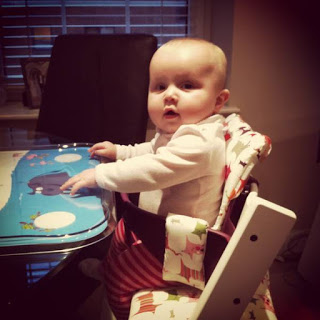 All in all I am super happy that Mr Jones convinced me to chose this high chair over the Bloom one. It is really teeny and takes up hardly any room in our already packed flat. Like most Stokke products it is rather cleverly designed to grow with your baby. As your child gets older, you can remove the baby seat, lower the foot rests etc. So although initially the Tripp Trapp seems on the expensive side, you can actually justify this by the years of use you will get out of it compared to other brands.