Well you all know how much I love my nails products so a gift voucher for some nail art from my ever thoughtful sister was the perfect birthday present for me. Yes, my birthday was back in January but what with moving house, whilst trying not to be violently ill or fall asleep, this weekend was the first opportunity I had to get me some nail art.
Little E currently thinks it's hilarious to call her father and myself by our first names, so when I gave my name over the phone to make the booking, E of course thought this was hilarious. I have no idea how the poor lady on the phone could hear a word I was saying thanks to my daughter screaming Becca! Becca!! Somehow we managed to find a suitable appointment and she also added that the salon was very child friendly if I wanted to bring little E along too!! 'Er no, I think I'll have an afternoon off' was my swift reply, but good to know for future reference.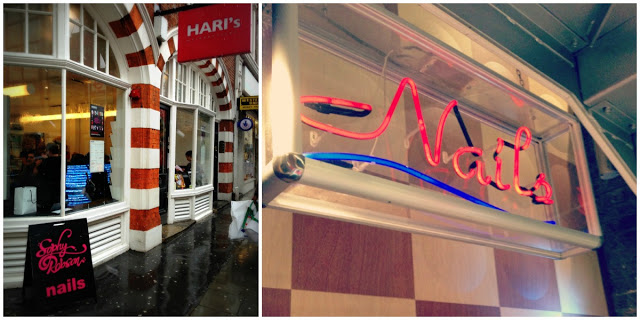 So on a snowy Saturday afternoon, I waddled down to Hari's salon on the Kings Road where Sophy Robson's nail salon is based, Sophy is known for creating nail designs for the likes of Kylie, Kate Moss and Taylor Swift. Upon arrival, I was met by the lovely Neringa who was my manicurist that day, I follow Neringa's nail designs on Instagram so I knew I was in good hands.
My appointment was booked for a gel manicure with nail art. I chose Gelish Go Girl as a base and then we looked over a selection of nail art, truthfully there were so many amazing designs that I found it impossible to choose so I just let Neringa work her magic. The final result was perfect, lots of girly glitter, bows and hearts, one happy customer!
I can't believe that this salon has been on my doorstep for the past few years and I haven't been before. I will definitely be going back for more, next time even I'm contemplating some almond shaped nail extensions!! While I currently feel very pregnant and frumpy, my nails at least will be quite the opposite!
For more information Sophy Robson Nails, check out their website
here
!
p.s. I did mention on Instagram that I was going write up post about my new sensationail polish which I wore last week but changed my mind after this fabulous mani. I promise to post it next week though.
Please follow me on
Bloglovin
for more updates!