Earlier this week, my lovely friend Karen who writes the fantastic blog
365 Pearls of Wisdom
asked me if I had ever written a post on tired eyes to link up with a post she was putting together. It's something that I have mentioned a few times in the past but I think it's high time that I dedicated an entire post to the subject. I have always suffered with dark circles and eye bags and they are even more prominent now that I have a baby. I believe that my problem is genetic and unless I opt for surgery I am pretty much stuck with it. This is what I do to (try) to disguise tired eyes: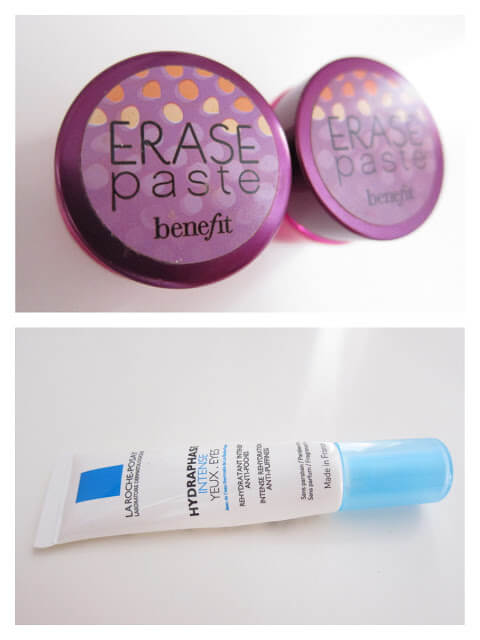 Use a good eye make up remover which dissolves my eye make up so I don't end up rubbing and damaging the delicate skin under my eyes. Garnier 2 in1 eye make up remover gets rid of my eye make up effortlessly. I have heard people raving about the Bioderma eye make up remover but for me this Garnier product beats it hands down, it doesn't sting my eyes like the Bioderma cleanser does and it's much easier to get hold of.
Moisturise morning and night! I'm using La Roche Posay Hydraphase eye moisturiser at the moment which helps reduce puffiness and fine lines, it's light enough to be worn under make up too.
Benefit Erase Paste- My secret weapon, this is the only concealer I have found that actually makes my dark circles disappear and doesn't sink into the creases under my eye. Light reflecting products such as touche eclat just highlight the problem for me. I use the no2 shade in winter and no3 in summer, often combining the two for the perfect tone.
A make up artist gave me a really great tip once- don't just apply concealer out of habit, assess your eye bags on a daily basis. If you're having a good day, don't bother with concealer. You don't want to draw attention to a problem that doesn't exist!
I have yet to try this but I am hearing lots of good things about Garnier's Anti Dark Circles Roll On, it contains caffeine which refreshes the eye area and also contains concealer, I NEED to try this!!
Some of the lovely ladies over on twitter recommended using haemorrhoid cream on eye bags. It sounds gross and I was a bit dubious about using this but in fact it works wonders by shrinking the veins under the eye. It's not something I really want to use regularly so for me this is an emergency treatment only.
There some tricks you can also use which don't involve a trip to the cosmetics counter and are therefore totally free, yeyyy!!:
Cool some table spoons in the fridge and then place them under your eyes for instant de-puffing.
Whilst more sleep is an obvious solution, I console myself with the fact that too much sleep can actually increase puffiness!
Reduce Salt intake- I try to avoid adding any salt to my food and also steer clear of processed food whenever I can. Additional salt in your diet can cause water retention which in turn can cause eye bags.
Drink plenty of water. An obvious one but lots of the lines we see under our eyes are caused by dehydration, water will help plump out fine lines and flush away yucky toxins, I do notice a difference in my eye bags if I haven't drunk enough water.