Firstly, I must confess that I am quite possibly the world's worst cook and yet, strangely, I thought that it would be a great idea to cook home made puree's for my daughter so that I could at least see what was going in to her food. Well, I have been using the
Beaba Babycook
for about a week now and so far I have avoided giving her food poisoning and, surprisingly, she even seems to like it!!!
The Beaba Babycook is a nifty little gadget that steams, purees, reheats and even defrosts the baby food for you. All you have to do is add the required amount of water to the well on the left hand side depending on what you want to do. Put the chopped up food in the jug part and then press go!! 15mins later it's all ready.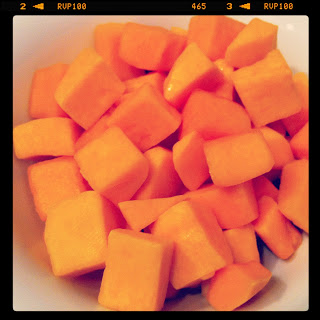 Shhhhhhh, don't tell anyone, but I cheated!!! I bought pre-chopped butternut squash from M&S ( only because last time I almost cut my finger off cutting a butternut squash, honestly!!).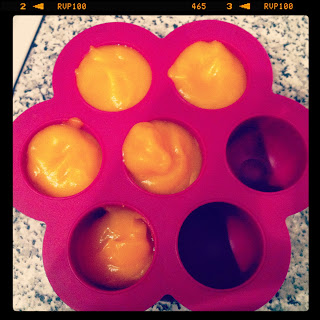 Usually there's enough made for a few portions, which can then be frozen in a silicone tray like the one above which is also made by Beaba.
When you're ready to serve the frozen portions up, you can put the cubes back in to the Beaba to defrost. But, this is the cheeky part: It's almost impossible to find any containers small enough to fit in to the jug section, so you are pretty much forced to fork out more money for the
Beaba Portion food containers
. I really think that these should actually be sold with the Babycook as you are pretty much stuck without them.
Other than that, I think this is a great little purchase, it's a super quick way to prepare healthy foods for your baby. It's pretty small and doesn't take up much room in the kitchen, you can even buy a travel bag so that you can still cook up a storm when you're away. But truthfully, who wants to cook whilst on holiday?? I think we would manage fine with a few packets from
Ella's Kitchen
.
Anyway here's the final result, my home made mush, which I am incredibly proud of :)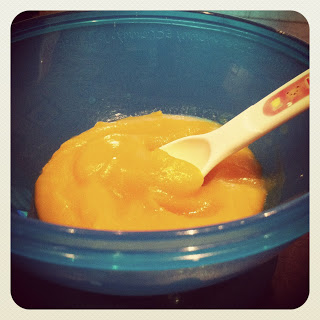 And the all important happy, but messy, customer!!